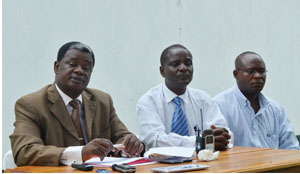 GOVERNMENT has warned of punitive action against councils misusing Constituency Development Funds (CDF) at the expense of delivering developmental projects to the locals.
Ministry of Local Government and Housing Permanent Secretary Howard Sikwela warned that Government would not tolerate mayors, councillors and council management abusing CDF.
Reverend Sikwela said the CDF was meant for delivery of tangible developmental projects to benefit various communities and not pocketing the funds for personal gains.
He said this in Choma at the weekend when he paid a courtesy call on Choma Mayor Jackson Makwamba and District Commissioner Bernadette Hamweemba.
"As mayors in the country, you have a big role to supervise implementation of CDF projects because these funds are for the public," he said
Rev Sikwela said Government would want to see transparency in the delivery of various programmes and that officers who failed to retire imprest would be dealt with accordingly.
He commended Mr Makwanda and the council management for their tireless efforts to improve the status of Choma especially after being declared the provincial capital of Southern Province.
He said Government had prioritised infrastructure development in Choma citing the ongoing construction of a six-storey provincial office complex at K32 million by China Jiangxi limited. Earlier, Mr Makwamba praised Government for funding the ongoing installation project of streetlights in Choma urban district at K500, 000 by Afriwoods and Development limited.
The streetlights would be lit next week. Last month, the contract was awarded to install a stretch of three-kilometre streetlights from Namwala turnoff to Choma Secondary School.
Times of Zambia