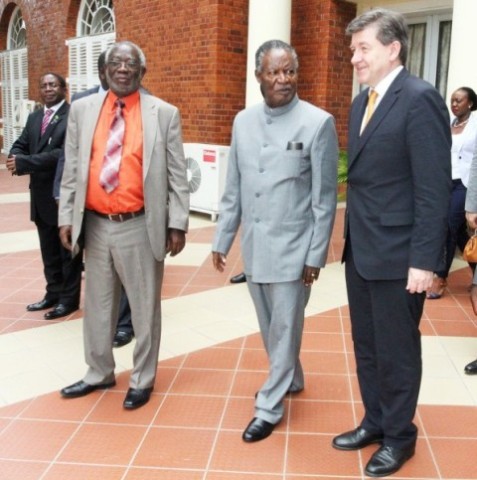 THE International Labour Organisation (ILO) has launched two programmes that will see the creation of over 8,000 jobs for Zambians.
The two programmes are the Rural Youth Empowerment, funded by Sweden at a cost of K39 million, and the Green Jobs funded by Finland at a cost of US$12.1 million ILO director general Guy Ryder said during the launch at Pamodzi Hotel in Lusaka yesterday that the two initiatives had come at the right time to help resolve the unemployment challenges Zambia was experiencing.
He said this would help reduce poverty in the rural areas, improve productivity and increase production of selected food crops.
"These programmes correspond very closely with the priority of ILO of employment creation, and they respond to the needs of the Government of Zambia to reduce unemployment levels," he said.
The Rural Youth Empowerment Programme, to be implemented with the help of the Food and Agriculture Organisation (FAO), was designed to support the National Agriculture Investment Plan, National Action Plan for Youth Employment and Empowerment, and the Rural Industrialisation Strategy.
The programmes seek to unlock the employment potential along the agriculture value chain and to secure sustainable livelihoods for rural communities.
Sweden Head of Mission Per Lundell said the project would facilitate creation of 3,000 jobs for young people and also improve financial performance of at least 5,000 youths in rural peri-urban enterprises.
Mr Lundell said the programme that started this year in October would be implemented in four years up to 2017.
The Green Jobs programme, which would also be implemented for four years from September 2013 to August 2017, would create 5,000 new green jobs by strengthening enterprising competitiveness and promoting sustainable business among micro, small and medium enterprises along the building construction value chain in Zambia.
Finnish Embassy Counsellor Ville Luukkanen said at the same function that the programme would improve the quality of 2,000 existing jobs by enhancing productivity and working conditions in building construction.
And Labour and Social Security Minister Fackson Shamenda and Mr Ryder on Wednesday launched the second Decent Work Country Programme and the Zambian Job portal.
Mr Shamenda said the Decent Country Work Programme was aimed at providing a blue print to Government, social partners and key stakeholders in tackling the challenges of employment and the labour market sector.
Times of Zambia