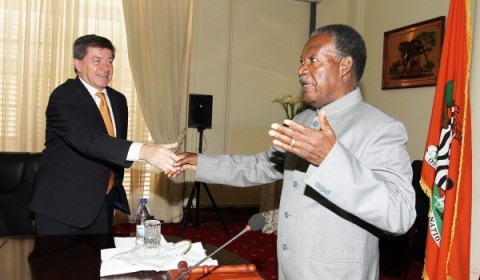 Visiting International Labour Organisation (ILO) Director General Guy Ryder has urged youths in the country to remain patient with government on the issue of employment creation.
Mr. Ryder said Zambia was not the only country that has been affected by low levels of employment noting that even western countries were facing the same challenges.
He said this in Lusaka yesterday when he met youth entrepreneurs.
The ILO Director General took time to answer a number of pertinent labour related issues from young people during the meeting.
He said world over the problems of high unemployment was proving to be a challenge and has affected most productive youths.
Mr. Ryder said the Zambian government was working hard to ensure that the creation of employment was stirred up.
He has however said ILO was also working with the Zambian government to build a lot of skills training in the country.
And in giving recommendations to ILO, Buumba Malambo, a Lusaka based youth called for the need to increase creation of rural employment.
Ms. Malambo said the youths in the country were ready to showcase their talent when they are given the right platform and the support that was needed.
She said there was need to increase access to land and the Farmer Input Support Programme to the youths so that they can be self reliant.
Ms. Malambo further called on the ILO to embrace youths because they were a group of people who were very responsive to the ever changing labour market.
And speaking in a vote of thanks, Benjamin Mwape, a youth under Restless Development also called on ILO to engage youths in most of its programmes.
Mr. Mwape said youths should not just be considered as groups that were meant to be used as tools for development but as partners in development.