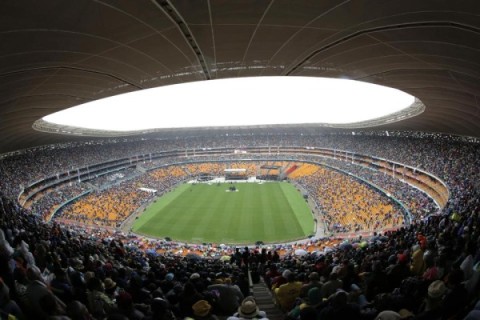 But the peace and harmony did not stretch to South African President Jacob Zuma, whom the crowd at the rain-soaked Soccer City stadium in Johannesburg booed and jeered as he prepared to give his closing address.
Mandela's death on Thursday at the age of 95 has diverted attention from a slew of corruption scandals in Zuma's administration, while underscoring the gulf between South Africa's first black president, a towering figure of the 20th century, and its fourth.
"Mandela had a vision. Mandela lived that vision," said Funeka Gingcara-Sithole, 31, who was in the crowd. "But what Zuma speaks, he doesn't live. He should do the honorable thing and resign."
Zuma's reception was a marked contrast to the rock-star welcome for Obama, one of about 90 world leaders bidding farewell to Mandela in Johannesburg.
As he bounded onto the podium, Obama extended his hand to communist leader Castro, who shook it and smiled back.
The only previous known handshake between U.S. and Cuban presidents since the island's 1959 revolution was at the United Nations in 2000, when Raul's brother Fidel shook the hand of then-U.S. president Bill Clinton in a chance encounter.
TOUGH WORDS
Obama's gesture of friendship did not prevent him delivering tough words to leaders who, he said, invoked Mandela's struggle against oppression while quashing opposition and dissent at home.
"There are too many of us who happily embrace Madiba's legacy of racial reconciliation, but passionately resist even modest reforms that would challenge chronic poverty and growing inequality," he said, speaking yards away from Castro and Chinese Vice-President Li Yuanchao.
"There are too many leaders who claim solidarity with Madiba's struggle for freedom but do not tolerate dissent from their own people," he added, using Mandela's clan …