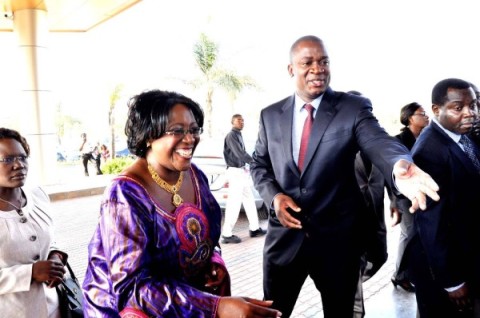 FIRST Lady Christine Kaseba says it is possible to have an HIV free generation.
And Dr Kaseba-Sata has paid tribute to late Nelson Mandela whom she described as "a hero of our times" and an ardent anti-HIV/AIDS campaigner.
Speaking during the official opening of the 17th international Conference on AIDS and sexually Transmitted Infections in Africa (ICASA) here yesterday, Dr Kaseba said an HIV-free generation is within reach.
"What a glorious day it will be for those of us who have been part of this journey and spent our adult lives working against HIV,'' Dr Kaseba said.
She said African countries are investing in the AIDS response and it is paying off.
Dr Kaseba- Sata noted that fewer people are becoming infected with the HIV virus and more than seven million people are accessing antiretroviral drugs (ARVs).
The First Lady who was the guest speaker also noted the significant reduction of new HIV infections among children due to effective prevention of mother to child transmission.
"As we share the success stories of our past years, we should also learn from our mistakes. We should learn and move forward with confidence and never to repeat or delay efforts that clearly save lives,'' Dr Kaseba said.
She called for increased investment in sexual reproductive health and access to these life-saving services.
Dr Kaseba said sexual reproductive health and HIV are interconnected, therefore, closer links will enable providers reach a wider audience.
She said investment in sexual reproductive health services will promote economic growth, and reduce poverty and gender inequality.
Dr Kaseba said the gains made in the fight against HIV/AIDS will not make an impact if women and children continue dying from pregnant related complications.
She said radical decisions must be made if Africa is to achieve zero  infection, zero discrimination and zero AIDS related deaths.
Dr Kaseba said cervical cancer is another sexual evil which if not contained will consume a lot of women.
"How can we celebrate the decline of HIV/AIDS and yet turn a blind eye to reproductive health cancers,'' she asked.
And World Health Organisation (WHO) regional director for Africa Luis Gomes Sambo noted that sub-Saharan Africa has remained the most affected as it accounts for 1.6 million out of the more than 2 million new infections, adding that the sub-region represents 75 percent of the HIV deaths.
And South African Vice-President Khalema Motlante said his Government was looking forward to exchange of ideas as countries target zero infections.
Mr Motlante noted that many countries have scaled up the fight against HIV despite financial challenges, adding that HIV prevention must be promoted because it is so far the best medicine in the fight against HIV/AIDS.
SOURCE: Zambia Daily Mail