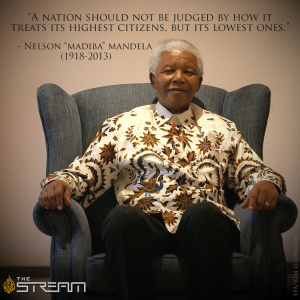 December 6,2013- His Excellency, Mr Michael Chilufya Sata, President of the Republic of Zambia, has learnt with profound sorrow and regret, the passing of former South Africa President Nelson Rolihlahla Mandela in Johannesburg, South Africa on Thursday, December 5,2013.
President Sata described the death of Mr Mandela, South Africa's first democratically elected President , as a moment of deepest sorrow and a big blow not only to South Africa, but also to Zambia and the rest of the world.
"I wish to express my deepest sympathy to South Africa President Jacob Zuma, all South Africans and particularly to his wife Graca Machel, his family,"the Head of State said.
"President Mandela will be remembered for his incredible lack of bitterness against those that unjustifiably incarcerated him for 27 years for standing up against apartheid. He spent most of the years of his imprisonment on the notorious Robben Island but emerged unshaken on his principle to become South Africa's first democratically elected President.
" Mr Mandela personified love that we who admired him should emulate in our words and deeds. He was regarded as a terrorist by the Apartheid regime but even when he became President he did not seek revenge. Instead he extended his hand of friendship and reconciliation, " President Sata said.
"Madiba, as we all fondly referred to him, will always have a specially place in the collective hearts of Zambians. This is because Zambia and South Africa's ruling party, the African National Congress, have had a long warm relationship because of the shared Vision of Justice for all regardless of reach or creed, " the Head of State said.
The President Sata this is why Mr Mandela chose Zambia as the first Country he visited after his release from prison in 1990.
The Head of State said this is why the passing of Mr Mandela is truly a loss not only to the people of South Africa but also to Zambians, Many of whom he has inspired and will continue to motivate in many years to come." Although Mr Mandela is no longer with us physically he will remain with us through his inspiring words. His Legacy will live on," the Head of State Said.
Issued by
Kaizar P Zulu
Permanent Secretary
STATE HOUSE