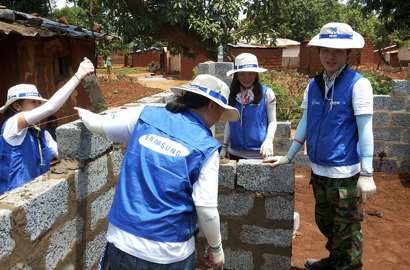 Four vulnerable families in Chipulukusu Township have benefited from the four houses, courtesy of Habitat for Humanity and Samsung Korea Corporation
The four beneficiaries of the houses that were constructed within a week are Olipa Mwange, 73, Albina Chalwe, 59, Regina Kunda, 59 and Tonika Mpundu, 73.
And Copperbelt Permanent Secretary, Stanford Msichili, said in a speech read on his behalf by Acting Deputy Permanent Secretary, Chalstone Hamulyata that government is fully aware of the role that the housing sector plays when taken as an economic investment.
Mr Msichili said it is common knowledge that housing inadequacy can have diverse impact on the health and general being of society as well as the environment.
He said government has since put in place a number of policies and strategies aimed at addressing the challenges of housing, adding that the contribution by Habitat for Humanity, in partnership with Samsung Koera, would not go unrecognized.
"Zambia's own strategic development is particularly in its own vision 2030. It is, therefore, important to remember that the availability of decent, affordable and adequate housing is an important pre-requisite to national economic development. This is the reason why this dedication of these houses by Habitat for Humanity,'' Mr Msichili said.
He said government is very proud of the efforts by Habitat for Humanity that has constructed over 2, 613 housing units on all its projects serving over 20, 000 individuals.
And Habitat for Humanity National Director, Joseph Musanje, said the vision of his organisation is to ensure that everyone has a decent place to live.
Mr. Munsanje said this is anchored by Habitat for Humanity mission of putting God's love into action by bringing people together to build homes and communities.
Mr Musanje further said Habitat for Humanity global strategy between 2014 and 2018 challenges them to be more effective catalysts for systematic change.
He thanked Samsung South Korea and South Africa for the tremendous support rendered during the Chipulukusu housing project.