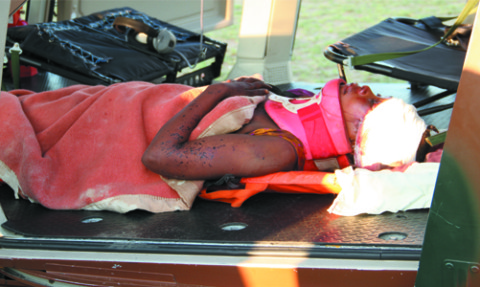 A PRELIMINARY report into the Luangwa road traffic accident, which claimed 14 lives on Saturday night, indicates that the bus was overloaded.
According to the Road Transport and Safety Agency (RTSA), the overloading might have made it difficult for the driver to apply emergency brakes.
Among the dead were six females and eight males who included the driver.
Three children aboard the bus, registration number ABA 4611, lost their mothers and were among the survivors evacuated to the University Teaching Hospital (UTH) in Lusaka.
RTSA chief executive officer Zindaba Soko said in an interview yesterday that the bus had 72 passengers at the time of the accident instead of its normal capacity of 60 people.
He said records by RTSA officials, who inspect buses at Inter-City Bus Terminus in Lusaka indicated that the bus had left with 60 passengers, but that the overloading along the way could have compromised the ability of the bus to be controlled.
"From our preliminary report, the accident could have been caused as a result of the failure by the driver to apply breaks which might have been caused by overloading," Mr Soko said.
Mr Soko also said the agency had asked the minister of Transport, Works, Supply and Communications to come up with a policy that would introduce a drivers' timetable for public service vehicles to avoid accidents.
Two out of the nine accident victims who were admitted to the UTH have been discharged.
UTH public relations manager, Mwenya Mulenga said yesterday that the duo was discharged yesterday morning, while the remaining seven were in a stable condition.
Fourteen people died after a Marcopolo bus in which they were travelling plunged into a gorge at Luangwa Bridge on the Great East Road on Saturday night.
Among the seven admitted are two children, four female adults and one male adult.

One of the victims, Bernadette Musonda, 24, said the accident happened so fast that she could not clearly remember anything.
Ms Musonda said her condition was slowly improving from the time she was rushed to UTH.
Meanwhile, Information and Broadcasting Services Minister Mwansa Kapeya and Permanent Secretary Stephen Mwansa yesterday visited the patients at UTH.
Mr Kapeya said he was happy that Zambia Air Force and UTH personnel were working as a team to help the victims.
And two people, among them a 10-year-old boy, died last weekend in
separate road traffic accidents in Kitwe.
Acting Copperbelt Police chief Joyce Kasosa confirmed the accidents which happened on the Kitwe-Ndola Dual Carriageway.
The boy has been identified as Panje Simwinga, of Zamtan Township, who was run over by a truck with a foreign registration number XTW 209GP as he tried to cross the highway, while cycling.
Times of Zambia