SOURCE- $Times_of_Zambia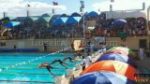 AS Zambia continues struggling at the African Junior Swimming Championships in Lusaka, South Africa yesterday underlined their top billing as favourites by winning 32 medals.
South Africa struck 16 gold, 11 silver and five bronze medals.
The South Africans, apart from being dominant, also broke five records in different swimming categories at the continental championship through Steyn Joshua, Anderson Erin, Steyn Joshua, Baxter Jarry and Vorster Eben, respectively.
Despite the local swimmers' poor showing at this gala taking place at the 90 Days Legacy Swimming Pool, Zambia coach, Ian Stevenson has remained optimistic of at least snatching a bronze medal at the championships.
Stevenson said he was banking on Tilka Paljk to salvage some pride for the Zambia.
'I am hoping Zambia manages to get at least a bronze medal before the end of the competition if Tilka saves Zambia in the breast stroke," he said.
Stevenson also said he was not disappointed with his team's overall performance as there were some remarkable improvements than in past events.
Stevenson said he was encouraged by the efforts of the upcoming swimmers but noted that a lot still needed to be done in training the athletes.
Times of Zambia