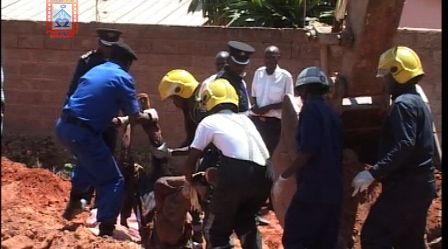 SOURCE- $Times_of_Zambia
THE Workers' Compensation Fund Control Board (WCFCB) has paid K13,500 as compensation to each of the unmarried workers who died at a construction site of a sewer line in Lusaka's Ibex Hill last year.
The amount has sparked an uproar from the families who believe that the money is too little as compensation for the loss of life.
According to figures obtained by the Sunday Times, surviving children of other deceased workers have been allocated a monthly wage of K300 each which would be paid until they reached the age of 18.
But WCFCB has defended the amount, saying it is within the law and the board was ready to clarify to any aggrieved family.
Asafu Phiri, Warren Mumba, Kangwa Mulonga and Gift Chileshe died on the spot when earth collapsed on them while working for SBCC Construction Company, a firm engaged to dig a sewer line in Ibex Hill.
Their demise came barely a week after another worker, Vincent Musenga had died in similar circumstances.
There is more confusion as one of the families says it has not received the compensation while the WCFCB insists that all the next of kin for the deceased have been compensated.
Collins Kafwembe who represented Mulonga and Chileshe said the WCFCB had paid K13,500 to Chileshe's mother Bertha Nsama as compensation while Mulonga's two surviving kids will be getting K600 per month.
Regina Naneya who is representing Wallen Mumba – a father of two – said in separate interview that the money was very little for the loss of life.
She said the two children had been allocated K300 each per month but wondered how this amount will be able to sustain them until they reached the age of 18.
Ilaki Daka who is representing Asafu Phiri said he had been told to go to WCFCB on 10th December to check whether the money would be ready.
"I have been going there almost every week and I saw their boss who told me that I should check in December because the money was not ready, but now I am tired of going there," he said.
However, WCFCB spokesperson, Maybin Nkolomba said all the beneficiaries were paid their compensation a long time ago and wondered what might have happened with Daka's compensation.
Mr Nkolomba who, however, promised to investigate the case, said calculations to arrive at every figure was in line with the Compensation Act.