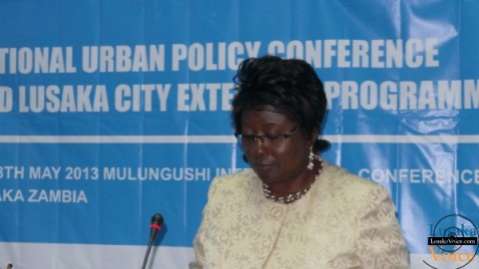 Government says strides made to reduce new HIV infections needs to be complemented by concerted efforts from all key stakeholders.
Local Government and Housing Minister Emerine Kabanshi has observed that the positive results the country is achieving towards the fight against HIV/AIDS are commendable and provide hope but that with more concerted efforts, Zambia is on the right track to reducing new HIV infections to zero.
Ms Kabanshi however pointed out that government is committed to sustain the gains that the country made particularly on male circumcision, adherence to Anti retro viral therapy and fostering behaviour change among others.
ZANIS reports that the minister was speaking when she officiated at this year's International World Day Commemoration in Lusaka today.
This year's International World AIDS Day was held under the theme "Getting to Zero in Zambia: Zero New Infections, Zero AIDS Deaths, Zero Stigma and Discrimination".
Ms Kabanshi has since commended the donor community, the private sector, the church, civil society organisations and other implementing partners for supplementing government efforts in scaling up the workable HIV/AIDS interventions in the country.
And speaking at the same function, US Ambassador to Zambia Charge d Affaires David Young has commended the Zambian parliamentarians for seriously encouraging Zambian men to undergo circumcision.
Mr Young said male circumcision has significantly contributed to reducing the risk of male to female sexual transmission of HIV.