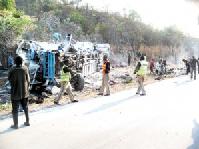 Fourteen people have died while fifty four others have sustained serious injuries after the Scania Marcopolo bus Reg No. ABA 4611 belonging to Ronsil Transport they were travelling in fell into a deep ditch at Luangwa Bridge along the great east road.
Zambia Police Spokesperson, Charity Munganga Chanda, has confirmed the development to QFM News that amongst the dead are six females and eighty males who include the driver of the bus.
Ms Munganga states that the bus was coming from Lusaka heading to eastern Province.
She says officers are currently at the scene of the accident trying to retrieve the bus from the ditch using a crane from the Zambia Army.
Ms Munganga says investigations into the cause of the accident have been instituted.
She explains that the injured are admitted at Mupaisha hospital while the deceased bodies are lying in the mortuary of the same hospital.
The accident happened yesterday around 19:28 hours at the Luangwa bridge in Luangwa.
qfm