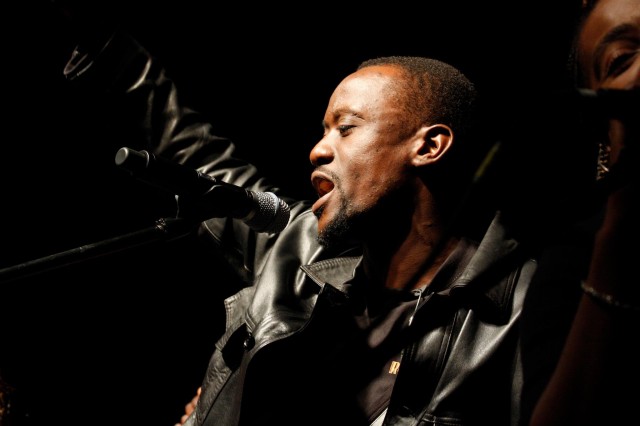 Does the name Humphrey Mwila ring a bell? How about Cactus Agony? Well, Humphrey Mwila and Cactus Agony are one and the same person, the latter name representing one of Zambia's prominent dancehall and reggae music artist. The prolific artist has won the hearts of fans with his style and has managed to make a name for himself as a bankable hit maker with songs like Waiting For Your Love whose music video was on heavy rotation on Chanel O, Body Can't Lie and Concrete Mixer, a duet with Zambian singing sensation and one8 super group member Jk. Mention working with Brian "Gold" Thompson, the producer behind Jamaican superstar Shaggy's hits, Oliver Mtukudzi and performing alongside Nigerian duo P-Square and you have yourself a winner.
While many Zambian artists have tried to capitalize on the boom of contemporary digital Zambian music all in the attempt at being relevant but losing identity in the process, Cactus Agony has stayed true to his craft since his first album Bush Territory.  The eleven track debut album was Cactus's search for identity and self discovery as the singer had spent more than 10 years in London where he was pursuing a degree in Product Design at Middlesex University. "I spent about 10 years overseas and I learned a lot about British history so I found out that I knew a lot about European history than Zambian history. When I went to the British Museum in London I saw the head of Broken Hill Man and I thought this should be in Zed (Zambia).' The title track Bush Territory makes mention of this in the lines 'You named the waterfalls Victoria with David Livingstone but tell me what the queen of England has to do with where I am from/Return the man from broken hill you know where he belongs/around the fire in the night we beat the drums and sing songs'. Cactus marketed Bush Territory independently and took it to several music outlets such Sounds but unfortunately the album was taken off the shelves because of a contract mishap.
As much as dancehall music is associated with partying,Cactus's music has more to offer than just the feel good summertime jams you can find on an average dancehall album. His deep lyrical prowess sets him apart from his peers and has earned him nickname "The Philosopher", a name given to him by his Kula Music cohorts. His stage name itself is a reference to the cactus plant that grows in the desert with little rain, a feature that represents strength and endurance. This name was given to him by Mr Lopez his mentor in the days when he was still in London.  "Lopez is the one who gave me the name Cactus because he said it best described who I am." He explains Agony "If you don't work hard for what you need, come easy go you know! And working hard is agony. It's not easy so you have to struggle"
Mr Lopez was a talented freestyler who taught Cactus how to be an MC and compose lyrics but it wasn't until he joined Nappy Clinch Clan, a popular London underground dancehall, reggae and hip-hop outfit that his music career begun to take form. "The Nappy Clinch Clan was a group of Jamaican guys. I was in the same class with one of the members and that's how I joined the group. We started hanging out together and they would take me their concerts and that experience was a real eye opener for me."
After ten years in the UK, Cactus came back to Zambia in 1999 and joined Cypher Music, one of the pioneer Zambian music labels that had artists such as Leo Muntu, Runnel, Inferno of Tymline Studios, Redlinso and Mampi. "Cypher Sounds was a label that was one of its kind at that time. The label put out a compilation CD called the Cypher Sounds with me and all these artists and the album did very well on radio and Sounds Charts." Says Cactus of his first musical home. He would later join Kula Music studios under the mentorship of Elijah where he honed his singing skills.
As his music career grew, Cactus formed his own three piece band comprised of Drummer Nawa Mubita, Keyboard player Erick Watula and guitarist Shadreck Lungu who won Dreams Reality TV and Natasha Shakarongo is on backing vocals. "I now have a two piece band, it used to be called a three piece band but sometimes I have a bigger band than three people and we perform wherever they book us. Sometimes I put together events of my own you know."
As of 2013, Cactus Agony is hard at work putting the final touches to his second album African Dream, which will be in stores by the time you read this article. The album is packed with guest producers like Mono Mukundu, who was the lead guitarist in Oliver Mkudzi's band. USA based reggae producer Andrew Diamond also lends a hand on the album while veteran local producers Kula Music's Elijah and TK  produce a couple of tracks on the sophomore record.
The album packs such feel good songs like I Love You Produced by TK of Romaside Studios and the laid back Salma Dodia assisted first single Love Boat will have the ladies pressing replay. Another notable song on the album is Cause and Effect featuring J.O.B. But it is the album's title track African Dream that sets the tone for the whole record. Produced by multi-instrumentalist Blessington Malenga and featuring backing vocals from songbird Scarlet, African Dream oozes with deep lyrics that reveal the albums inspiration in such lines as, "The bloodshed and the violence got me musically breaking my silence." The song addresses a lot of issues such as the recent xenophobic attacks in South Africa and other the radical happenings in Africa.  "These are some of the things I am talking about in the song you know because there seems to be a revolution of some kind going on in Africa," says Cactus. "We need to take advantage of this momentum and this motivation that people have to use it as fuel to take our development, out economic status to the next level you know."
It was not long before Cactus's name and positive influence begun to resonate other circles of life. He has been involved with a number of social causes where he has played many roles.  He was the ambassador for Red Cross, the UNICEF Brothers For Life campaign and the good governance campaign Every Voice Counts.  As an honorary ambassador for US Embassy activities he Zambia, he recently was on the US Embassy sponsored Bikes Across Borders trip with USA Ambassador to Zambia Mark Strolella and TV Presenter Lulu Hangaala. "The trip's main purpose was to promote local tourism and also to officially open the Cervical Cancer Research Centre at Livingstone General Hospital, " Revealed the dancehall singer," Then we cycled another ten kilometers to Nsongwe Women's Co-operative,which is sponsored by the US Embassy in Zambia.  These women grow vegetables which they supply to hotels and lodges in Livingstone."
by Hope Mkunte [H.M]