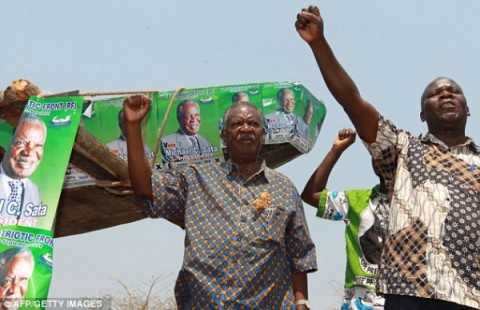 PRESIDENT Michael Sata has admonished Patriotic Front (PF) Members of Parliament (MPs) from Luapula Province for neglecting their constituencies since they were voted into office in 2011.
The President said it was shameful that his MPs had failed to adequately develop their respective constituencies since the PF was voted into power.
He has since threatened to take it upon himself to work and ensure that the province was developed if the MPs continued being passive.
Mr Sata said his Government would sink boreholes in all villages in Luapula Province.
He said it was unacceptable that 49 years after independence, Mansa was still facing erratic water supply, with some residents using pit latrines.
He was speaking in Mansa during a rally to drum up support for PF candidate for the Mansa Central parliamentary by-election, Chitalu Chilufya at Muchinka Primary School grounds.
The United Party for National Development has settled for Rosemary Mwiche, while Forum for Democracy and Development's candidate is Alfred Mwape, with the MMD floating Malama Kapolyo. UNIP has Charles Mwelwa.
"You all the MPs in Luapula Province stand up and kneel down here. Look at them, we are only remaining with two years in power and you have not done anything to develop this place.
"Now give me an MP who is knowledgeable so that people here, especially women, can become self-sustaining to feed their children because you have failed to bring development here," Mr Sata said.
The President said Government had provided enough resources to ensure that development was spread to all the constituencies but was disappointed that his own MPs were failing to take meaningful development to their constituencies.
Mr Sata urged the people in Mansa Central to vote for Dr Chilufya in tomorrow's by-elections, saying he was knowledgeable and could help develop the area which had lagged behind in the provision of vital necessities like water.
He said the PF had plans to develop Zambia and would not want to have MPs who were neglecting their constituencies once voted into power.
"After 49 years of independence people here have no water and are still using pit latrines, it is unacceptable, what kind of MPs are you?" he wondered.
Mr Sata, who paraded school-going children from Lasachi Memorial School after assisting them with transport, told Dr Chilufya to ensure that more schools were built in the area to lessen long distances children were subjected to.
Education Minister John Phiri advised Dr Chilufya to work hard and concentrate on developing his constituency if he won the polls.
He said his ministry had plans to upgrade 22 basic schools into secondary schools as well as start the construction of a university by March next year.
Local Government Minister, Emerine Kabanshi said the opposition had nothing to offer as she had not seen any MP from the opposition going to her office to ask for help in terms of development.
Campaign manager and Home Affairs Deputy Minister Nickson Chilangwa said the PF would scoop the seat because its candidate was well-known for hard work.
Dr Chilufya said he was confident of winning the election because he was the most credible candidate in the race due to the efforts being made by his party to develop the entire nation.
Earlier, President Sata commissioned the Mansa Vaccine Cold Stores built at a cost of US$150,000.
Mr Sata, who arrived at Mansa Airport around 11:30 hours, inspected the newly-refurbished laboratory expected to store children's vaccines.
The commissioning of the provincial vaccine cold store was an important milestone in scaling up hope for better health in children.
The facility would improve the quality of immunisation services by enhancing vaccine storage and management.
The laboratory was built in partnership with the World Health Organisation.
[Times of Zambia]