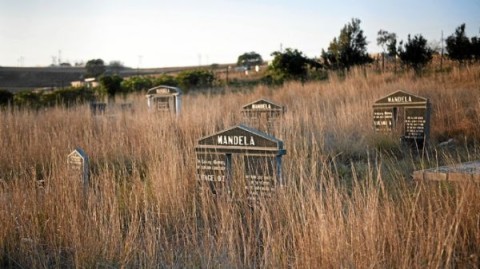 The National Prosecuting Authority has elected not to pursue two legal cases against Nelson Mandela's grandson relating to bigamy and grave tampering.
Two charges against Mandla Mandela, former president Nelson Mandela's grandson, will not be pursued, the National Prosecuting Authority said on Tuesday.
NPA spokesperson Luxolo Tyali said the two cases relate to alleged bigamy and grave tampering.
"Both cases were submitted to us a long time ago. We looked at the dockets and referred them back to the police for further investigation."
The NPA considered the dockets when they were returned and found there was insufficient evidence that would be admissible in court, said Tyali.
In July, 16 members of the Mandela family laid charges against Mandla Mandela after he admitted to exhuming the bodies of three of Madiba's children two years ago.
The remains were those of Nelson Mandela's eldest son Madiba Thembekile, who died in a car accident in 1969; Mandla Mandela's father Makgatho Mandela, who died in 2005; and Mandela's first daughter Makaziwe Mandela, who died as an infant in 1948.
The three sets of remains were exhumed from Mandla Mandela's home village of Mvezo on July 3, in accordance with a court order, and reburied at Nelson Mandela's home in Qunu the following day.
Alleged bigamy
The second matter arose in December 2011, when the Mvezo chief's first wife Thando Mabuna-Mandela laid a charge of bigamy against Mandla Mandela.
This was after he defied a court order not to marry a Pietermaritzburg woman, Mbali Makhathini. The pair began divorce proceedings in 2008, after marrying in community of property in 2004.
Mandla Mandela's lawyers began legal proceedings against him earlier this month to recover unpaid fees of almost R500 000.
Randall Titus & Associates will no longer represent Mandla Mandela and court documents reveal that the firm is demanding R467 400 and interest of 15.5%.
The fees were reportedly for legal services from May last year to May 2013. – Sapa