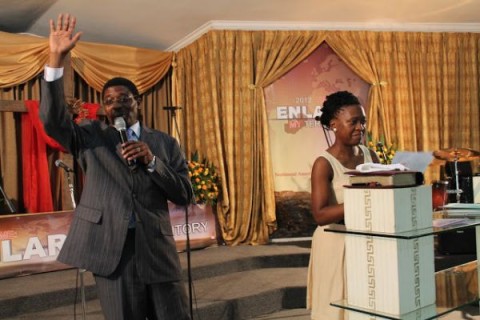 Bishop Joshua Banda says people living with HIV should adhere to treatment and not be blinded by the 'faith healing' offered by some clergymen.
There have been increasing media reports in Zambia that some pastors have been making HIV positive people stop taking antiretrovirals (ARVs) on grounds that God had healed them.
In a speech on July 17 at the ongoing 55th Local Government Association (LGAZ) annual conference at Chrismar Hotel, Bishop Banda said people who believe they have being healed through faith healing should not stop taking their antiretroviral treatment.
"I am a pastor and chairperson of the National AIDS Council (NAC) and am calling upon the people to report such clergymen so that necessary measures can be taken. ARVs should be taken for life. No wonder they are provided for free in all the government health centres," Bishop Banda said.
He said local government was crucial in reversing the HIV and AIDS epidemic and that councils needed to know their prevalence rates so that they can design the right responses.
"One of the key drivers of the epidemic is alcohol abuse. By the stroke of the pen, we have seen the banning of Tujilijili [beer sachets of brandy which were being sold cheaply and was abused by youths], for us [NAC] this is a major step in addressing one of the drivers of the epidemic and we commend the government for taking such a bold decision. This should motivate us more as local authorities to know their epidemic so that they can design the  right responses," he said.
Bishop Banda who is also a senior pastor at Northmead Assemblies of God said the NAC will pass on some of its functions to the local authorities as government embarks on sector devolution in 2013:
"You have raised concerns regarding the placement of the district AIDS coordination advisors and you have expressed your desire to have these officers moved to the local authorities. We have recognised the critical role you play particularly in guiding district development planning where we can leverage and mainstream HIV and AIDS, gender and human rights. We have actively engaged the decentralisation of the secretariat in the past few years…In fact we are ready to move the functions at least to city councils," he said.
Bishop Banda said the local authorities have major role to play in the prevention pillar particularly in non-biomedical interventions.