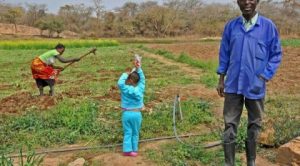 (Reuters) – Zambia's staple food crop, maize, looks set to be significantly dented next year by a lack of rain that is delaying planting.
Most of the harvest comes from small-scale farmers around the capital, Lusaka, and these have been badly affected by the dry spell.
"We planted a small section of maize because we were not sure about the rains," said Eunice Bwalya, a 56-year-old peasant farmer who ekes out a living just north of Lusaka. "But it's drying up because there's been no rain."
Landlocked Zambia's maize production for the 2012/13 growing season fell by 11 percent to 2.5 million tonnes because of poor weather and a worm infestation, contributing to what its likely to be a fall in GDP growth from last year's brisk 7.2 percent.
The sector is more resilient than it used to be, as state subsidies and improved farming practices have helped Zambia to go from being a maize importer to an exporter, boosting output to a peak of 2.8 million tonnes from about 600,000 in just over a decade.
But this year the state has raised the burden on farmers by cutting a subsidy on fertilizer to 50 percent from 75 percent – an unusual case of the state scaling back assistance to the poor under the populist president, Michael Sata.
The most immediate concern for the small-scale farmers, however, is the weather. They would generally be planting their maize now for harvesting around April.
Rains came to Lusaka on Monday night – the first in the capital in four weeks – but it is not wet enough yet to plant.
STATEMENT DUE
"The soil moisture has not deepened enough to sustain germination," Joseph Kanyanga, chief meteorologist with the Zambia Meteorological Department, told Reuters in an interview on Tuesday.
He said since the third week of October, when almost the entire country reported good rains over a brief period, showers have been scattered and sporadic and mostly confined to the west and northern regions of the country.
The Agriculture Ministry plans to issue a statement about the situation on Wednesday or Thursday.
Zambia is Africa's biggest copper producer but farming remains crucial to its economic fortunes, accounting for about 20 percent of its gross domestic product. Any shortages or reduced harvests can fan inflation.
Other countries in the region, such as Angola, have also seen economic growth slowed by drought.