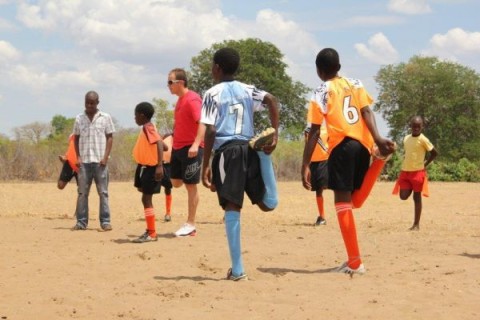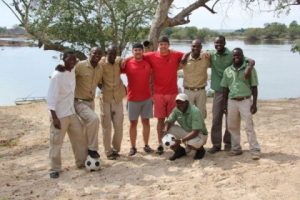 Children in the Wilderness (CITW) has partnered with professional soccer player, Gordon Gilbert to launch Soccer in the Wilderness – an inspirational programme combining the fun of sport with education to raise environmental awareness in local communities in Zimbabwe and Zambia.
Gordon has played professionally for Kaizer Chiefs, Mpumalanga Black Aces and Moroka Swallows, to name a few, and is a wildlife enthusiast committed to making a difference. "We are proud to partner with Gordon and to have him on board as our new CITW Ambassador", said Sue Snyman, CITW Programme Director. "He is extremely passionate about making a positive impact to conservation by teaching and inspiring local communities through the game of soccer and is very much aligned to our core philosophy to empower children through education."
From 5 to 9 November 2013, the inaugural Soccer in the Wilderness clinics took place at Sinde Football Club, Twabuka Middle School and with Wilderness Safaris' staff at Toka Leya Camp in Zambia and Jabulani Primary School in Zimbabwe. Gordon and the CITW teams raised awareness in the villages about various conservation issues, including poaching and rhino conservation, motivating and inspiring them to get actively involved in the conservation of the wilderness areas they live next to. The importance of setting goals and having the discipline and dedication to achieve them was also discussed to encourage the children to broaden their horizons and to aim high.
"We were blown away by the support from our CITW Eco-Club champions who are true ambassadors for conservation in their communities. The clinics played a huge role in building unity and morale, as well as bringing the communities together. Healthy lifestyles through sport equal healthy minds and improved social welfare. We are thrilled to be driving such an inspirational programme with Gordon's support", Sue added.
According to Gordon, his personal goal is to see wildlife and heritage conserved and protected whilst adding value to communities. "I feel extremely proud and excited to be associated with a company like Wilderness Safaris and CITW who share the same vision."
Article by: Children in the Wilderness