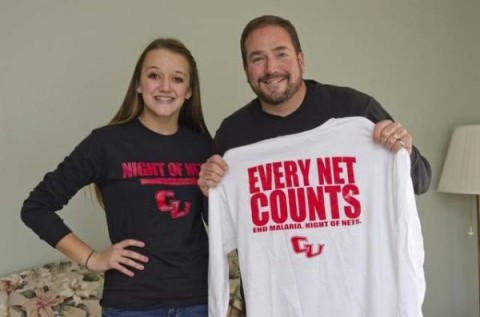 One young woman is striving to raise awareness in her own community about an epidemic that attacks people on a daily basis half a world away.
Pennfield High School junior, Emily Jackson, has a heart for those in need. And this month, Jackson's desire to help will directly affect the people of Zambia, Africa.
And while there are many needs in Zambia, Jackson was exposed to one need in particular: mosquito bed nets.
Every day more than 2,000 children die in Africa from malaria carried through a mosquito bite. While malaria was eradicated in the United States more than 50 years ago ago, Africa's populace is still at risk due to lack of prevention and proper treatment.
A mosquito net is one of the most cost-effective and efficient ways to help prevent the spread of malaria.
Chip Huber, Cornerstone University dean of student engagement and author of "The Zambia Project," created the "Night of Nets" event where sports such as: basketball, soccer and volleyball are held and an admittance donation to the event goes directly to providing a mosquito net for a family in Africa.
Emily Jackson heard of the "Night of Nets" from her older sister who attended the event at Cornerstone.
After speaking with Huber and hearing first-hand about the plight of people with malaria in Africa, Jackson knew she had to do something.
"Pretty much, the families go to bed and the mosquitoes bite them and they get malaria and are horribly affected by it," she said. "So a bed net would keep the mosquitoes out, so it can really affect an entire family, just one net."
Passionate about the mission behind "Night of Nets," Jackson wanted to engage her own community in the cause and that meant changing an annual Thanksgiving service at her church into a chance to give.
"We have this Thanksgiving area-wide youth service every year (in Calhoun County) and instead of doing that this year what we can do is take that and turn it into a way so that we can kind of give back with everything that we've been blessed with," she said.
Instead of another traditional Thanksgiving youth service at Calvary Baptist Church, youth in middle school through college can come to Calvary and experience a traditional African meal, participate in worship music and listen to Huber speak about the needs in Zambia.
Those participating are encouraged to donate $6 or to buy a Night of Nets T-shirt, the proceeds of which go directly to providing families with mosquito nets.
Huber is connected to a pastoral network in Africa, with a central focus on Zambia, which then determines which villages have the greatest need for nets.
"I love the fact that (Chip) has local contacts," said Don Jackson, Emily's father and director of student missions with Vision for Youth. "It makes it more real. You know, we're not just sending the nets away and hoping that they get there. He's sending them specifically to the people that are going to hand deliver them to those villages."
Emily Jackson is excited for another way to impact those around her, both locally and internationally, through giving.
"I definitely love the idea of giving back because we have so much and I feel like a lot of times you go to an event and it's kind of like a guilt trip," she said. "You have so much you have to give back. But I just think it's special that we have so much and I've been to inner cities and I see families who are struggling with stuff and that's in our county. And then I think about that in other countries and how easy it is for us to provide such a simple way that can save lives."
While Jackson has yet to make it to Africa, she is no stranger to witnessing the needs of others.
"I've gone to the inner cities of Chicago, New York and Philadelphia," she said. "And each time I go I'm just so, first of all, humbled by what I do have and then just kind of heartbroken for what I see that these people in our own country are struggling so much. It just breaks my heart that people just don't have and we do."
Jackson has no intention of letting Night of Nets be her sole venture in giving back.
She hopes not only to get area schools involved with Night of Nets but also hopes to find herself in the inner cities again one day as an elementary teacher.
"It's eye-opening to realize that there's so much going on in the world that, a lot of times, we just forget about," she said.