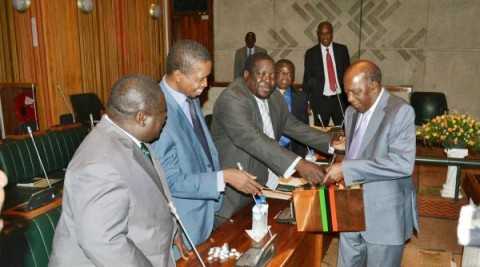 THE Police are still probing for the masterminds of the PF intra-party violence that left one man dead and several others injured, acting Vice-President Edgar Lungu has said.
And Government will not allow the transportation of political party cadres to Mansa ahead of the November 22 Mansa Central parliamentary by-election.
Mr Lungu, who is Home Affairs Minister, told Parliament yesterday that the suspected murderers have been arrested but that the police are yet to corner the masterminds.
He said, though, that Government will not interfere with the on-going investigations by the police.
Mr Lungu said Government has allowed the police to thoroughly investigate the matter to ensure that all the culprits are arrested and prosecuted in accordance with the law.
Mr Lungu said Government through the Ministry of Home Affairs will not tolerate lawlessness and that it will not allow party cadres to tarnish the image of the country by unleashing atrocities on innocent people.
The minister said this in response to a question by Chembe member of Parliament (MP) Mwansa Mbulakulima (MMD), who wanted to know whether the suspects in the murder of people in political violence have been arrested or not.
Meanwhile, Deputy Minister of Home Affairs Steven Kampyongo has told Parliament that the decision to bar the transportation of cadres to Mansa is aimed at preventing political violence before, during and after the by-election.
He said this in response to a question by Mr Mbulakulima, who wanted to know what measures the Ministry of Home Affairs has put in place to ensure that cadres are not sent from other towns to Mansa during the by-election.
Mr Kampyongo said police have since mounted three security check points in Mansa on the main roads to prevent cadres from other provinces going to Mansa.
"The main roads where the check points have been mounted include the Mansa-Chipili-Nchelenge road, Tuta road and Chembe road," he said.
Mr Kampyongo said intelligence officers have also been deployed in strategic areas for surveillance purposes and urged all political parties taking part in the by-election to sensitise their members on the need to refrain from all acts of violence.
He, however, said that Government is happy that all political parties have assured the police that campaigns and the by-election will be conducted peacefully.