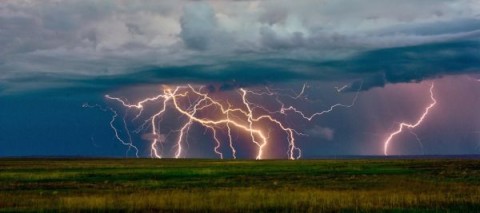 TRAGEDY struck – literally – in Kazungula when a pregnant woman and her four-year-old daughter died after being hit by lightning in Sikabwe village near Livingstone.
The woman was four months pregnant when lightning struck and killed her along with her toddler daughter and the baby she was carrying.
Southern Province commissioner of police Charity Katanga named the deceased as Muleya Mushupa, 21, and her daughter Mary.  They were of Chief Musokotwane's area.
Mrs Katanga said in an interview yesterday that the woman and her daughter died after suffering first degree burns from the freak lightning on Wednesday afternoon.
"Muleya Mushupa, 21, who was four months pregnant, and her daughter Mary Siamvula were burnt to ashes," she said.
Mrs Katanga said: "Police do not suspect foul play and burial awaits the arrival of relatives of the deceased."
And in an interview in Kazungula yesterday, the deceased's husband, Maybin Nene, described the death of his wife and daughter as "shocking and unbelievable".
Mr Nene, 25, said he left home on Tuesday at 10:00 hours to attend an agriculture meeting within the village.
"The meeting finished around 15:00 hours and I decided to go and buy some cooking oil before heading back home…it then started raining up to around 16:00 hours," he said.
He said a few minutes later, someone approached him to inform him that his wife was "really sick".
Mr Nene said he immediately rushed home only to be told that his wife and daughter had been struck dead by lightning.
"I was shocked to find that my wife and daughter were burnt to death by lightning. I couldn't even recognise them because they were badly burnt… including all the household property," he said, while holding back tears.
Mr Nene has asked for people to pray for him so that he can recover from shock.
"I recently moved into the house, which got gutted, and this is when I was building a kitchen. Now everything is gone together with my wife, whom I was hoping would bring a male child into our family," he said.
And Sikabwe village headman Aaron Siavula-Nene described the death of Mr Nene's wife and daughter as "a strange tragedy that has befallen the village".
Headman Siavula-Nene, who lives about 200 metres from the funeral house, was saddened that efforts to save Ms Mushupa and her daughter from the inferno proved futile.
"When we got word that the house was struck by lightning, we rushed to the house but we unfortunately found that the burning roof had even fallen inside the house," he said.
And Mr Mushupa's aunt, Vero Siyanchinga, said on the material day, her niece went to visit her sister-in-law but went back home when it started raining.
"She went visiting but when it started raining, she rushed back home to remove the baby blankets she had left on the line. Unfortunately, lightning struck and they both got burnt and died in the house," she said.