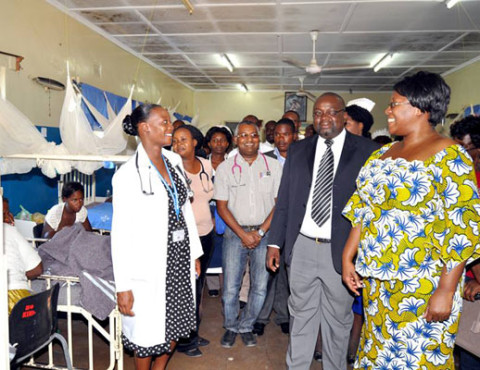 FIRST Lady Christine Kaseba has called on medical doctors to put patients' lives at the centre of their work as they attend to them and not personal egos.
On Wednesday, Dr Kaseba successfully carried out two major operations at Choma General Hospital.  The operations involved the delivery of a 2.7 kilogramme baby boy by Caesarean and removal of a six-kilogramme fibroid uterus.
Briefing journalists here yesterday, Dr Kaseba said the removal of the fibroid was a difficult exercise but was well handled by medical experts.
She said the surgeries being undertaken by medical experts during a mobile health outreach programme also serve as lessons for doctors in Choma.
"The theatre experience is aimed at building capacity among doctors in the district to enable them to deal with cases that would ordinarily be referred to the University Teaching Hospital in Lusaka," she said.
Dr Kaseba hopes that the medical staff in Choma will gain skills and change their attitude in the manner they operate on patients by prioritising a patient's life.
She visited some patients who underwent operations on Wednesday, toured the maternity wing, children's ward and the hospital which is under construction.
She said it is gratifying to see patients from various parts of Southern Province access health services.
Dr Kaseba also called on men to regularly screen for prostate cancer, which she said has now become a major killer of men in Africa.
"The numbers are not as huge as cervical cancer cases in women but the figures are significant to warrant action, especially that we are in Choma, where the concoction Mutototo originates from," she said.
Earlier, Southern Province medical officer Simon Mutembo said the mobile health outreach programme has so far attended to 1,527 patients while the outpatient department has recorded 197 patients.
"The major theatre, the obstetrics and gynecology department attended to nine cases, general surgery 15 cases, urology five cases and ophthalmology nine cases," Dr Mutembo said.
Under the cervical cancer section, 463 women have been screened so far while 11 patients have been recommended for excision procedure to cut out abnormal tissues.
The mobile health outreach programme, which started on Monday, will go on even in the absence of Dr Kaseba until November 20.