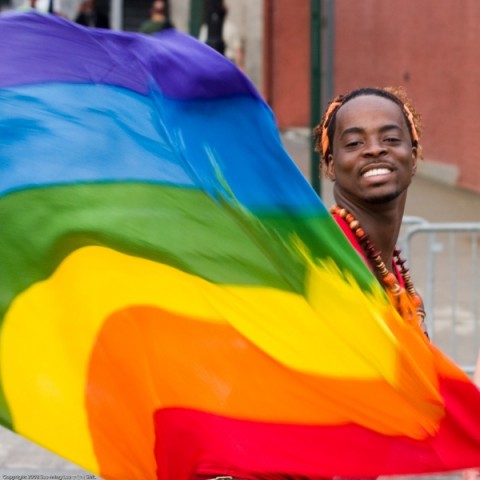 Commonwealth leaders from around the world meet in Sri Lanka on Friday. Yet again they plan to ignore the criminalisation of lesbian and gay people in 80% of Commonwealth member states. They are refusing to even discuss the current homophobic persecution in Ghana, Cameroon, Zambia, Uganda and Nigeria.
Gay campaigners and allies from many countries rallied outside the Commonwealth's London HQ on Wednesday, accusing the Commonwealth of "collusion with homophobia."
The theme of the protest was: "Commonwealth must speak out and act against the persecution of lesbian, gay, bisexual and transgender (LGBT) people."
Coinciding with the protest, the Kaleidoscope Trust released a damning new report on the victimisation of LGBT people in Commonwealth countries.
At least 41 of the 53 Commonwealth member states still criminalise homosexuality. They account for more than half of the world's countries where same-sex relations are illegal.
Most of these homophobic laws were imposed by Britain during the colonial era and were never repealed when these nations won their independence. The majority of legal statutes disparage same-sex relationships as "unnatural offences."
The penalties for homosexuality include 25 years jail in Trinidad and Tobago and 20 years plus flogging in Malaysia.
Six Commonwealth countries stipulate life imprisonment: Sierra Leone, Tanzania, Pakistan, Uganda, Bangladesh and Guyana.
This massive scale of anti-LGBT persecution makes a mockery of the Commonwealth Charter that was agreed earlier this year.
It supposedly commits the member nations to respect universal human rights, which should, by implication, include the human rights of millions of LGBT Commonwealth citizens. Despite most member countries having failed to meet this commitment, the Commonwealth Secretariat says and does nothing. Silence is collusion.
The Commonwealth should have never agreed to hold its summit in Sri Lanka, given the country's appalling human rights record. An estimated 40,000 Tamil civilians were massacred by government forces in the closing stages of the civil war in 2009. Right now, opposition MPs, journalists and human rights defenders are suffering threats and intimidation.