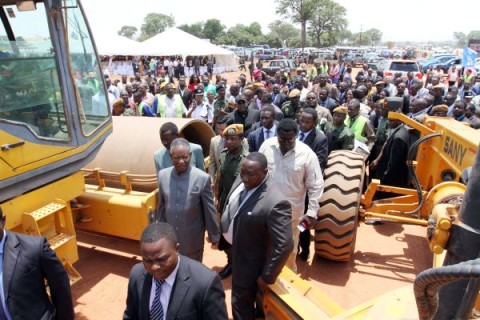 PRESIDENT Michael Sata has said two more roads on the Copperbelt, besides the Kitwe-Chingola road, will be upgraded into dual carriageways.
The Head of State has since directed the Chinese contractor working on the K561 million Kitwe-Chingola dual carriageway to employ local people.
Mr Sata said the Government would upgrade the Sabina-Mufulira as well as the Ndola-Mufulira roads into dual carriageways.
He was speaking in Kitwe yesterday during the commissioning of the road link upgrade at Chibote Secondary School in Chimwemwe Township.
The Kitwe-Chingola road project, whose works have already started, comprises the upgrading of the existing 45.5km from Kazembe road junction in Kitwe to Kasompe Road junction in Chingola.
The President has further directed Works, Supply, Transport and Communication Minister Yamfwa Mukanga to routinely inspect the works to ensure the contractor, Sino Hydro, employed Zambians.
Mr Sata also urged Zambians employed to work on the project to be exemplary and work hard.
"If you want more money in your pockets you must work hard and the Chinese contractor should only bring technical people such as engineers, the rest of the jobs should be for Zambians.
"Minister of Works and Supply inspect the works to ensure that Zambians are employed," the President said.
The south-bound carriageway works involve construction of the asphalt carriageway, a new bridge at Mwambashi river, as well as reinforcement of the existing bridge at the same location.
The project would be implemented over a period of two years and was expected to generate more than 500 jobs during the construction period.
Mr Sata said the project defined Government's commitment to investing heavily in the country's economic infrastructure to favourably compete in the global economy and subsequently create jobs.
"The project will offer immense benefits to Copperbelt residents and Zambians in general with full realisation of linking Zambia as a land-linked hub for trade and investment in the southern and central African regions.
"There is no doubt that we are strategically positioned and it's high time we started exploiting our country's advantage to achieve better economic results," he said.
Mr Mukanga, at the same occasion, said the construction of the Kitwe-Chingola dual carriageway was an important addition to the list of road projects the Government had embarked on throughout the country.
Copperbelt Provincial Minister Mwenya Musenge commended President Sata for being steadfast in delivering development to all parts of the country.
The President's entourage included First Lady Dr Christine Kaseba, Foreign Affairs Minister Wylbur Simuusa, Road Development Agency Board chairperson Willie Nsanda, and other Government officials.
Chinese Ambassador to Zambia Zhou Yuxiao also attended the function.