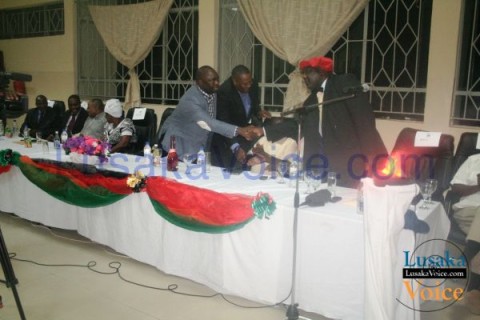 The Barotse Royal Establishment (BRE) has raised concern at the rate and manner in which natural resources were being depleted in Western Province.
BRE Acting Ngambela Induna Kalonga (Godffrey Siisi) bemoaned that natural resources that include timber, fish both in rivers and lakes, grass, birds and animals were being brutally vandalized by the local people in the province.
Speaking during the Integrated Development Plan (IDP) for the Zambia component of the proposed Liuwa plains-Mussuma Trans Frontier Conservation Area (TFCA) workshop held at country lodge in Mongu yesterday (13, 11,2013), Induna Kalonga warned that government, stakeholders and local communities are currently more determined to put indiscriminate distraction of natural resources to a stop.
He disclosed that the province recently had a case where two men engaged in a cruel manner of trapping birds in the Barotse Flood Plains using rat poison which he said was also poisonous to human beings.
Induna Kalonga said the duo that are currently saving jail sentences were an example among many cruel ways being used by the locals to deplete natural resources in the province.
And Zambia Wildlife Authority Director General Xenophen Vlahankis called on BRE and the local people in the Province to keenly preserve wildlife and other natural resources found in Sioma Ngwezi and Liuwa national parks which he said have special and unique features.
Mr. Vlahankis said the two National Parks are special and unique in nature compared to other parks in the country because they have both cultural and natural heritage aspects.
He explained that Sioma Ngwezi and Liuwa National parks have by right and tradition inherited certain communities that are considered as part of conservation areas.
Mr. Vlahankis further said the two national parks have an important historical feature what tells the world of how far back the events were put in place.
He said in this regard, there was need to rekindle the lost tough and sight of the guiding principles that are in the laws and legislation in an effort to empower the local people.
T.M