An international delegation of the UNAIDS Programme Coordinating Board (PCB), made a recent visit to Zambia from 4-6 November to learn more about the successes and challenges in a country where almost 13% of the adult population is living with HIV.
"The AIDS response in Zambia is at a tipping point and now is not the time to become complacent about HIV but to build on the significant gains achieved." said UNAIDS Deputy Executive Director Jan Beagle who was leading the visit.
There has been significant progress in reducing overall HIV prevalence and scaling up access to treatment, as well as in stopping new HIV infections among children. Yet there is an increasing number of new infections among young people, relatively low rates of testing, and lack of access to services for key populations.
The delegation included members from Australia, Brazil, Congo, India, Norway, Poland and Zimbabwe, as well as representatives of PCB NGOs and UNAIDS Cosponsors who met with a range of stakeholders in Zambia's multi-layered, multisectoral response to HIV. The delegation met the Vice President, the First Lady, the Minister of Health, the Minister of Chiefs and Traditional Affairs, government officials, development partners, and civil society and youth representatives, including people living with HIV.
The meetings provided an opportunity for the delegation to express support and to discuss the importance of shared responsibility and global solidarity in the AIDS response. Ms Beagle welcomed the development of a national investment case which explores what is needed for an effective and targeted response to HIV which is focused on results.
At a UNAIDS reception the First Lady, Dr Christine Kaseba stressed the need to address HIV as a public health imperative with great attention to rights and highlighted the specific vulnerabilities and needs of women and girls and men who have sex with men.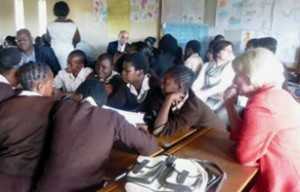 During the visit the delegation also participated in the third National HIV Prevention Convention, opened by the Vice President, who spoke about the vital role of traditional leaders and chiefs in behaviour change.
In addition the PCB saw the on-the-ground realities of the epidemic and met people most affected by HIV with visits to a prison, clinic and school. The delegation attended a class on comprehensive sexuality education and met with young people living with HIV who demonstrated their willingness to discuss sexuality, take responsibility for protecting their own health, and help guarantee a healthy future for Zambia's next generation.
"The visit to Zambia was an excellent opportunity for a PCB delegation to see the particular challenges of a severe epidemic in Africa and to see the positive impact of UNAIDS' work in bringing together all stakeholders in support of an effective response that delivers real impact," Ms Beagle concluded.