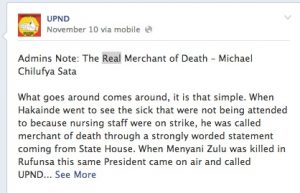 What goes around comes around, it is that simple. When Hakainde went to see the sick that were not being attended to because nursing staff were on strike, he was called merchant of death through a strongly worded statement coming from State House. When Menyani Zulu was killed in Rufunsa this same President came on air and called UPND names even before the man had enough information regarding the circumstances of Menyani's death (MHSRIP).
His own Ministers are quick to react when such a thing happens. But the silence following the death of those PF cadres is astounding but not unexpected from Sata and his Government. "A man who's only tool is a hummer, sees every problem as a nail". This is Sata who sees every problem as a political. People die every day, but what really defines the gravity is the manner in which they die and whether or not its needlessly so. This is what happened on Thursday, a Head of State, running a country would be disturbed, but not Sata because this is his kind of politics. Sata has thrived on violence, his success depends on instilling fear in others. Way back from the time Sata was Governor, he has always used fear and position power to get things done. The idea on these murders is to simply scare away those that want to joint politics and prepare the nation for a violent election in 2016 because that is the only way he will stay in power.
It is disgusting for a President who was 5 kilometers away from the scene of the murder to fly passed the scene. A normal human being would have arrived at the scene and address the grievances there and then. Was that a difficult thing to do? We are also told that Dr Kaunda (his ally) drove passed the scene without even bothering to stop and check. This is the value we place on human life in Zambia under PF.
A President must at all costs provide leadership and security for his people. Sata is doing neither, so should we then say the country is firmly on auto pilot? Is it time for citizens to arm themselves? Should Sata even be in state house at great cost to the citizens for him to only sleep and eat nshima at Nkwazi house? He does not even have the basic decency to grant the press an interview after launching the reconstruction of the airport let alone a press conference.
We repeat, let this man provide leadership. If he cannot, it is time he gave up power and leave it to those that are capable of running an office such as the one he is occupying.
SOURCE : facebook.com/UnitedPartyforNationalDevelopment