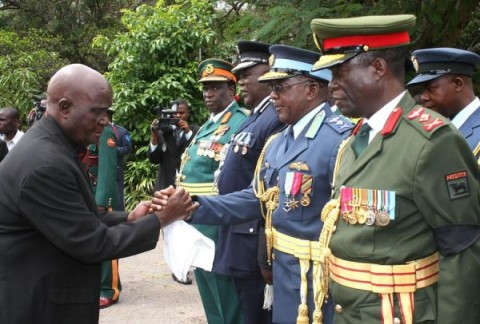 THE Lusaka Magistrate's Court has dismissed an application by former Zambia Air Force commander Andrew Sakala not to give evidence until President Sata allows him to do so because he swore the oath of secrecy under the State Security Act.
This is a matter in which Sakala, former Zambia Army commander Wisdom Lopa and Zambia National Service commandant Anthony Yeta are charged with theft of K1.5 million.
When the matter came up for ruling before magistrate Wilfred Muma yesterday, magistrate Muma said the court has a duty to protect classified information from disclosure but that non-disclosure of such information must not in any way impair the accused's right to a fair trial.
Mr Muma said the provisions under the State Security Act under which Sakala made the oath do not apply to judicial proceedings.
"I want to state in clear terms that judicial control over evidence in any matter before the court cannot be given up or abdicated," Mr Muma said.
He said Sakala must prove to the court that the evidence is classified information and can pose reasonable danger or compromise national security.
Mr Muma said precaution will be taken on how the information will be received by the court and that the court will abrogate the principle of an open judicial proceeding and hear the matter in chambers.
He said this will allow the court to hear the purported classified information and determination will be made as to whether the information will invaluably affect national security or not.
"It is upon the flavour of the evidence that a well-reasoned determination as to whether the information has the legitimate status of State security and it is classified. I don't think we will expose the accused person to prosecution under the State Security Act," Mr Muma said.
But Sakala insisted that he would give only general information in chambers until the President allows him to divulge State secrets.
Mr Muma reprimanded Sakala saying he should not take anarchy to court because the court is in control.
He said Sakala should not give the court instructions unless he appeals to the High Court.
"Don't promote anarchy in the court, the court has already ordered. The accused can't advise the court after ruling because it is in control and this is not the accused's show," Mr Muma said.
Sakala, Lopa and Yeta were arrested last year and jointly charged with theft by public servant involving K1.5 million meant for defence special operations during the 2011 general elections.