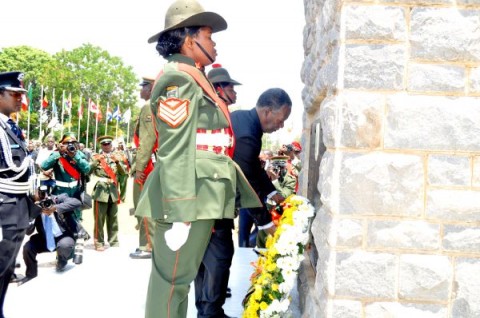 President Michael Sata this morning led defense service chiefs and foreign dignitaries in laying wreaths for fallen heroes that fought in the first and second world wars.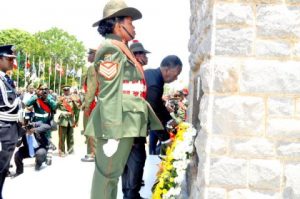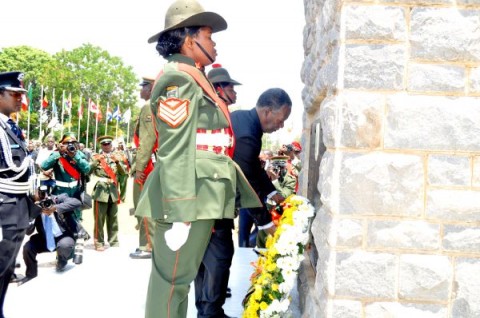 The Remembrance Day which falls on the 11th of November is commemorated worldwide every year.
Speaking during the ceremony at the cenotaph, Zambia National Service Head of the Chaplains Henry Matifeyo has reiterated the need for society to never shed blood again as was done in the world wars.
Lieutenant Colonel Matifeyo says the first and the second world wars spelt enough blood that people in the world should strive for peace and dialogue over issues affecting humanity.
Lieutenant Colonel Matifeyo also notes that as Zambia enters the year of jubilee and as it remembers the fallen heroes that fought in the world wars, the nation should pray for relief from death that the land of Zambia will rest from any forms of colonialism which does not benefit the people.
Meanwhile president Sata has expressed disappointed at the rate which the Ministry of works and supply is carrying out his directive to elect erect a mausoleum on the tombstone of the later former republican President Frederick Chiluba.
Speaking after he laid wreaths at the late President Patrick Mwanawasa's mausoleum, the visibly displeased President Sata wondered why the Minister of works and supply Yamfwa Mukanga has not carried out his directive and to which Mr. Mukanga told the Head of State that his directive is still on paper and that the directive will however carried out soon.
President Sata further went on to lay wreaths on the late Dr. Chiluba's tombstone.