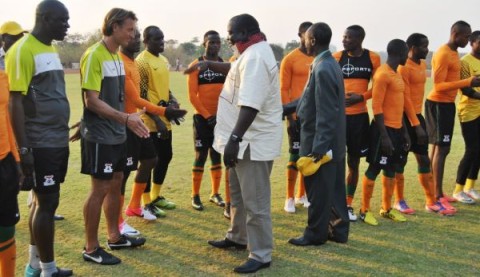 MINISTER of Youth and Sport Chishimba Kambwili says plans are in the pipeline to name stands at the Heroes National Stadium after stars of yesteryear.
Kambwili said in an interview from Monaco yesterday that his ministry is looking at the issue critically as numerous suggestions have been made.
Kambwili is in Monaco attending a World Conference on Peace and Sport.
"The suggestions that have come through to name stands at Heroes Stadium after our heroes are worthy looking at because it is a very good development. However, Cabinet has the final say on which people will make the list," Kambwili said.
The stadium was named after the 18 national team players and 12 officials that died in the 1993 Gabon air crash.
On the official opening of the 50,000-seat capacity Heroes' National Stadium, Kambwili said he is yet to write to President Sata, who will advise on the date that will be appropriate.
He said the contractor Shanghai Construction has already handed over the facility to the Ministry of Works and Supply, Transport and Communication.
"The stadium will be opened by President Sata but we have to inform him before a date is fixed. I will write to his office when I come back," Kambwili said.
On the conference, Kambwili said the meeting is looking at how sport could enhance peace as observed when Zambia won the 2012 Africa Cup.
The conference, which opened on Wednesday, is being attended by Ministers of Sport.