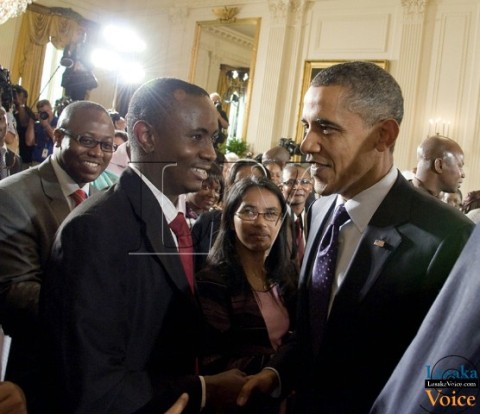 THREE US top officials recently provided an overview of the United States (US) policies and initiatives in Africa including US President Barack Obama's Power Africa initiative, his Young African Leadership Initiative (YALI).
Other issues discussed included trade, security and development, training of African peacekeepers and the role of the US in improving the capacity of African security organisations. Regional cooperation in addressing instability and violent extremist groups, maritime security and issues to do with the African Union peacekeeping missions were also laid to the table.
Held in Alexandria, Virginia, on the sidelines of the Africa Centres's Next Generation of African Security Sector Leadership programme (ACSS), the meeting attracted 45 African Ambassadors and their military attachés based in Washington DC.
The 90-minute occasion also set a perfect stage for an introduction of the new Commander of the US Africa Command (USAFRICOM), Commander David Rodriguez and Ambassador Linda Thomas-Greenfield, the Assistant Secretary of State for African Affairs as well as Ambassador Richard Schmierer, the Principal Deputy Assistant Secretary of State for Near Eastern Affairs.
In her opening remarks, Ambassador Linda Thomas-Greenfield was quick to state that the US interest in Africa is to build on Africa's traditions while contributing to an environment of freedom, prosperity and security in the US-African partnership.
Ms Thomas-Greenfield reminded her audience that Mr Obama had demonstrated the same perspective and commitment during his trip to Africa in June 2013 as in expanding economic growth, expanding investment and trade, strengthening democratic institutions and investing in the next generation of African leaders.
In her presentation, she also referred to the Young African Leaders Initiative (YALI) launched in 2010 as "President Barack Obama's signature that supports young African leaders as they work to spur growth and prosperity, strengthen democratic governance and enhance peace and security across the continent."
She observed that YALI would bring 500 young leaders to US universities and colleges across the United States in 2014 in order to provide them with class training in business, entrepreneurship, civic leadership and public administration.
Stating that a new initiative "Power Africa" had been announced by Mr Obama in June 2013 in South Africa, the aim of the initiative was to double access to power in sub-Saharan Africa. Power Africa aims at building on Africa's enormous power potential including new discoveries of vast reserves of oil and gas as well as the potential to develop clean geothermal, hydro, wind and solar energy. The initiative, she said, would help countries develop newly discovered resources responsibly, build out power generation and transmission and expand the reach of mini-grid and off-grid solutions.
On his part, Commander of the US Africa Command (AFRICOM), General Rodriguez informed the audience that AFRICOM was established in 2007 in order to improve the coordination and effectiveness of the US military activities in Africa on the premise that a safe and secure Africa is in the best interest of Africans, Americans and the broader international community.
"Today, regional partners are making significant progress in addressing security challenges on the continent. Partners in East, North and West Africa have made progress in countering violent extremist organisations such as al-Shabaab and al-Qaida in the Islamic Maghreb, with some US capacity-building and enabling support," he said.
He also pointed out that threats to civilian populations in countries such as Central Africa had reduced as a result of regional operations combined with the activities of civilian agencies and non-governmental organisations against the Lord's Resistance Army, a rebel group led by Joseph Kony that has been targeting innocent civilians, kidnapping children and forcing them to fight.
In East Africa, he stated, progress in maritime security has been witnessed though maritime crime has continued to be a major challenge in the Gulf of Guinea where AFRICOM has been helping partners to strengthen maritime security and counter illicit trafficking.
AFRICOM, he went on, has also helped strengthen relationships and helped promote inter-operability in humanitarian and disaster response activities such as a recent US-South African joint exercise on humanitarian.
Sitting in as Deputy Dean of the African Ambassadors based in Washington DC, Her Excellency Faida M Mitifu, the Ambassador to the US of the Democratic Republic of Congo thanked the Africa Centre for Strategic Studies for organising the round table which she described as "very important to enhancing US-Africa relations."
Ms Mitifu told the meeting that the Power Africa initiative in which the US would work with partner countries namely Ethiopia, Ghana, Kenya, Liberia, Nigeria and Tanzania will help combat frequent power blackouts.
She said, on the other hand, the Inga Dam hydropower scheme in the Democratic Republic of Congo has the potential to change Africa's energy supply.
Ambassador Mitifu further added that the ultimate aim of the project is to build inter-connections from Inga across the entire continent – not only to Southern Africa but also extending to Egypt, Nigeria and Ethiopia.
Turning to US-Africa trade relations, she observed Africa has continued to experience significant political and economic change which in turn is improving the way the continent conducts its business. She observed that investors and entrepreneurs were now awake and alert to explore the business opportunities and potentials that have been untapped in Africa's markets for a long time.
She also urged the US to bolster commercial relations with Africa by extending AGOA as soon as soon as possible. This, she said, would enable President Obama to use the African leaders summit scheduled for 2014 to focus on a broad range of trade and investment issues.
At the end of the 90 minutes, there was no doubt that the meeting provided an overview of US policies and initiatives in Africa, including President Obama's initiatives for electrical power, trade and developing young African leaders.
Security issues discussed brought to the fore the relationship between security and development, the importance of regional cooperation in addressing instability and violent groups, steps to protect nations from being targeted by terrorism.
The author is the Deputy Chief of Mission at the Embassy of the Republic of Zambia in Washington DC.