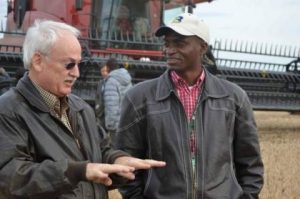 For poor, hard-working families in Zambia, opposition to genetically improved crops poses a real and present danger.
Kelvin Kamfwa knows all too well. The 35-year-old Michigan State University student from Zambia says his parents, just like millions of subsistence farmers in the land-locked country of nearly 14 million, struggle to survive. Flushing toilets and receiving an education are luxuries.
That could change, Kamfwa says, if Zambia farmers had access to seed that is bred to be more resilient to weeds, pests and weather extremes. Better, more productive crops would raise living standards considerably and offer youths options and opportunity.
Perhaps that's why Kamfwa shakes his head in disbelief when protesters — including those who recently gathered in Des Moines during the World Food Prize events — call for banning improvements in plant genetics and boycotting companies that invest millions to bring better seeds and crops to the marketplace.
The activists say they are protecting human health and the planet. Kamfwa says they're condemning millions to lifelong poverty.
The affable man with a broad smile told me his story while attending one of three farm tours held during the World Food Prize. They were sponsored by the Iowa Soybean Association and offered nearly 200 World Food Prize attendees the opportunity to see farms that many had only heard or read about.
Kamfwa, the youngest of 10 children, marveled at what he saw. The precision and productivity of America's farms is why he made his way to Michigan State, where he plans to earn an advanced degree in plant breeding and biotechnology. His parents, he says, gave him the greatest gift they could by allowing him to go to school. He received a scholarship to attend Michigan State by finishing first in his class at the University of Zambia.
Now, he wants to put this opportunity to work by bringing the best crops to his village and to other developing countries.
Too many families in his village, he says, struggle to fight the weeds that choke their crops. In a good year, most families can only grow enough food to feed themselves. The cycle is doomed to repeat itself, says Kamfwa, as many children in his native country must skip school to work on the farm, controlling weeds and insects. No education. No freedom. No future.
Genetically modified crops are a game-changer, he says. At its simplest, biotechnology is technology based on biology. In agriculture, genetically improved crops possess desirable traits such as resistance to pests, harsh environmental conditions or herbicides, improved shelf life and better nutritional value.
Yet some, including those who attempted to "occupy" the World Food Prize, believe improving crop genetics threatens the planet and human health. If they can convince people to stop buying products containing ingredients derived from genetic modification, companies will stop using them and farmers will stop growing them. One GMO "awareness" website says it aims "to make more and more people aware until a tipping point of consumer rejection happens and the market for GMO collapses."
Such a collapse, warns Kamfwa, will doom millions of families to a future of poverty and hunger.