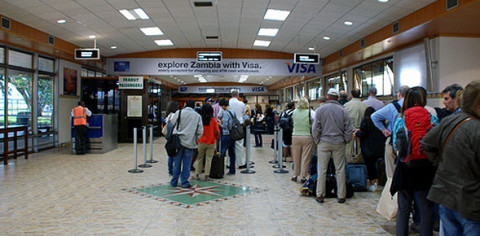 SITA is transforming Zambia's Harry Mwanga Nkumbula International Airport in a multi-million dollar deal to automate all airport operations and provide world-class service to the country's growing tourism market. Under the new agreement, SITA will modernize the airport's passenger processing, network infrastructure and security management solutions and serve as the master systems integrator to ensure all new solutions work together seamlessly.
Prince Chintimbwe, Director Airport Services for National Airports Corporation Limited (NACL), the company that manages the airport, said: "Zambia's tourism industry is experiencing year-on-year growth of 10 percent, and our airports are absolutely critical in providing a good first impression. SITA has been instrumental in helping us build and integrate our new airport operations solutions, with a focus on improving customer service. And they've done it in record time."
During the first three months of the project, SITA delivered its AirportConnect Open passenger processing platform, which all airlines can use. The company also provided its new AirportVision flight information display system throughout the airport and a new public address system to keep passengers well informed throughout their journeys. The airport showcased the new technology during the recent UN World Tourism Organization's General Assembly, which Livingstone hosted.
During the next phase of the project, SITA will implement an integrated system throughout the airport. This will include a Local Area Network, WiFi, Internet Protocol TV, Closed Circuit TV and fire alarm systems, in collaboration with third-party network and security suppliers.
Paul Murphy, SITA Vice President, Sub Sahara Africa, Bahrain, UAE & Kuwait, said: "By the end of this transformation project, Harry Mwanga Nkumbula International Airport will become an intelligent airport. Management will be able to share real-time information with all airport stakeholders, which will improve operational efficiency and facilitate superior service throughout the airport. We're working closely with the airport against an ambitious timescale to completely modernize and integrate all airport operations."
SITA's AirportConnect Open enables airports, airlines and their handling agents to access their respective IT applications in real time on shared equipment. It also allows any airline to use any agent desk, gate position or self-service kiosk for passenger check-in and bag drop. This helps save airlines money because they can share applications and equipment, while also helping airports to optimize real estate and improve operational efficiency.
More than 300 airlines use SITA's AirportConnect Open to process millions of passengers every day in more than 360 airports around the world.
The transformation project at Harry Mwanga Nkumbula International Airport is part of the NACL's airport infrastructure development master plan, which covers four of the country's airports. This is the first airport to be upgraded, and the project is expected to be completed by early 2014.