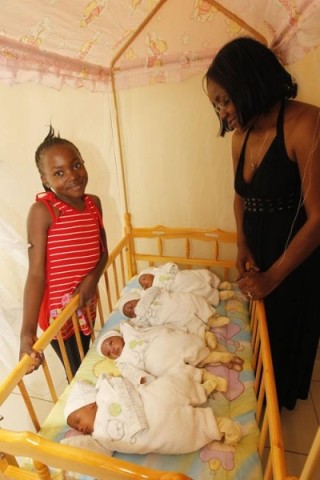 IT IS nearly a year since quadruplets, Natasha, Lombe, Chisanga and Lukundo were born to Shabi and Terrence Mulenga on Zambia's independence eve last year.
At the time of their delivery, the babies were actually quintuplets before one of them passed away early this year. Their birth had marked a first in recorded Zambian history.
As one of the doctors who delivered the babies and has closely monitored them ever since, Monica Kapasa told the Sunday Mail in an interview that the babies had not faced any major problems since being completely under the care of their parents.
The quadruplets are said to be generally enjoying all-round health and are now able to sit and crawl.
"They are generally doing fine and their mother has now gone back to her regular work at ZESCO head office," Dr Kapasa shared. "Their grandmother and aunt have been there from the time of their discharge from hospital to offer additional support to their mother."
As regards their weight, Dr Kapasa said the babies had been constantly putting on weight and had crossed different milestones despite being born prematurely.
The babies have been breast and bottle-fed by their mother since their birth and are now able to take fruit, vegetables, nshima and porridge as part of their balanced diet.
It had been a decision of Dr Kapasa and other members of the UTH Neonatal Intensive Care Unit to closely monitor the quadruplets for at least a year following their discharge from hospital last November.
Dr Kapasa said raising the quadruplets to the point where they were now fully developed and active individuals had not been easy for Mrs Mulenga but she had done the best for the babies and had managed to pull through the most delicate stage of their growth and development.