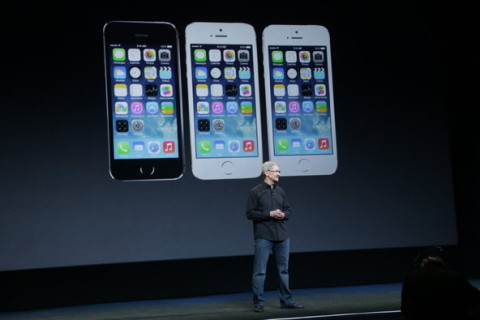 Apple is expected is expected to announce significantly upgraded versions of its tablets at an event on Tuesday. The iPad Mini is expected to have a higher-resolution display, while the bigger iPad is expected to have a slimmer design, weighing about a pound. Both iPads will also most likely get Apple's new processors, but not the fingerprint sensor that is in the latest high-end iPhone.
The company is also expected to give a more fleshed out presentation of Mavericks, the latest Mac operating system, which it first introduced last June.
One wildcard that remains is whether Apple will introduce a new keyboard cover for the iPad, which woud be a defensive play against Microsoft's Surface tablet.
Follow along with Nicole Perlroth, who is at the event, for the latest updates.
1:59 P.M.Cook Is Back, and Here Come the iPads
Tim Cook is back. We're about to get a look at Apple's latest iPads.
But first, some more swipes at the initial criticism of the iPad, which included someone somewhere saying: "Anyone who thinks it's a game changer is a tool."
1:58 P.M.New Versions of iWork and iLife Are Free
We're starting to get a theme with Apple's new software. Mr. Cue says that the new versions of iLife and iWork are now available for free.
1:51 P.M.More and More and More Software Updates
We're getting a lot of software updates for an event that was expected to highlight the new iPads.
Mr. Cue says GarageBand, the company's music creation app, will also move to the iPad. Apple has given GarageBand a lift with better audio quality and new features like "drummer" that lets musicians jam out with customizable drumming tracks. With iCloud, users can now get access to GarageBand across their devices.
Then Mr. Cue moves to Apple's apps for businesses, like iWork, which will now feature full file compatibility. Desktop and iOS versions of iWork apps will now work more closely together, courtesy of iCloud.
Apple is also adding collaboration to iWork for iCloud, which will allow users to edit documents together, similar to what is available with Google Docs.
1:46 P.M.
iPhoto and iMovie on Mobile Devices
Eddy Cue has taken the stage to talk about new apps for the Mac and iOS.
He says that Apple is bringing iPhoto to the iPad. In addition, iMovie will move to the iPad and iPhone. It features a cleaner look and lets users share videos more seamlessly.
1:43 P.M.Video on Assembly Process
The move to assemble Mac Pros in America seems to be a response to criticism of Apple's manufacturing processes in China. A highly stylized video shows a factory floor where robots are assembling the Mac Pro. Robots appear to outnumber humans by a ratio of 10 to 1.
1:38 P.M.More Details and Pricing on Mac Pro
Apple announced its new Mac Pro earlier this year, but today Mr. Schiller is giving more details on the desktop computer. He says that it is the fastest computer Apple has made to date, with faster memory and flash-based storage that is 10 times faster than a hard drive. The Mac Pro's target market seems to be filmmakers, photographers and musicians.
The Mac Pro starts at $2,999, even though it resembles a beautiful garbage can, and will be available "before the end of the year" — a k a just in time for the holiday season.
He says it will be assembled "here in the U.S." This is a new selling point. We're watching a video of Apple engineers in the United States manufacturing the new Mac Pro.