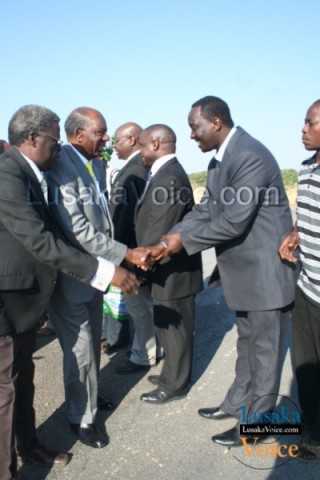 Government decided to freeze employment in 2014 to ensure that there are sufficient funds for the provision of basic social services and investments in public infrastructure, Finance Minister Alexander Chikwanda has said.
Mr Chikwanda said the move was also meant to reduce the proportion of Government revenues spent on the public service wage bill, which was currently projected at more than 52 per cent in the 2014 budget.
The minister said this in a ministerial statement in Parliament yesterday. He said the employment freeze excluded the posts that fell vacant due to retirement, resignation, death and others.
"This policy means that all those institutions, which will embark on the replacement of staff for the reasons I have highlighted above, will be authorised to undertake such recruitment because these positions are already provided for in the 2014 budget," Mr Chikwanda said.
This arose from the point of order raised by united Party for National Development (UPND) Monze Central Member of Parliament (MP) Jack Mwiimbu who wanted to know why the ministers were contradicting themselves regarding the employment freeze in the 2014 National Budget.
Community Development, Mother and Child Health Minister Joseph Katema told the House that 952 health workers would be recruited to boost numbers of trained health personnel.
This prompted the MPs from the the opposition to question the pronouncement by Dr Katema arguing that the minister of Finance during the presentation of the Budget proposed an employment freeze in the public service.
The speaker then ordered Mr Chikwanda to issue a ministerial statement over the matter. Mr Chikwanda, in his ministerial statement, said with regards to the recruitment under the ministry of Community Development, the Government in May 2013 authorised the recruitment of 952 health personnel.
"Should the ministry not complete the recruitment to fill all the posts this year, the ministry will still be allowed to fill the balance of the posts in 2014, since these posts were created in 2013 and resources are already provided for them in the 2014 budget," he said.
Mr Chikwanda also told the House that employment for institutions to be built in 2014 would be considered in the 2015 budget.