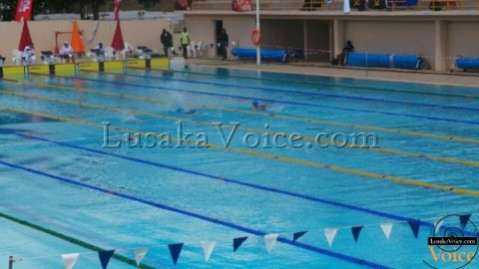 SEVEN national records were broken at the weekend by Rumball brothers, Brandon and Liam of Kapenta Club during the 2013 Zambia Amateur Swimming Union (ZASU) opening gala that was dominated by AIS Torpedo Club.
The event that was held at the 90-Days Legacy Swimming Pool at the Olympic Youth Development Centre (OYDC) in Lusaka saw the nine-year Brandon setting new records in the 200m backstroke, 50 metres back and 50 metres freestyle.
In the 200 metres backstroke, Brandon beat the old record of 3:20:12 minutes after timing 3:13:67 minutes before going on to time 40:45 seconds beating the old record set at 41:26 seconds in the 50 metres back before wrapping up his feat with 33:62 seconds timing against the set record of 35:38 seconds in the 50 metres freestyle.
Eight-year-old Liam broke four records starting with the 50 metres freestyle where he clocked 38:60 seconds against 39:10 seconds and he timed 1:12.58 minute in the 100 metres freestyle event beating the old time of 1:30.95 minute before timing 3:10.12 minutes in the 200m freestyle beating the set record of 3:24.16 minutes.
In the 400 metres freestyle, Liam was just superb clocking 6:47.33 minutes to set a new record of 7:56.33 minutes.
And honours in the team event went to AIS Torpedo emerged winners in three races beating other teams that took part in the event.
These included Baobab Barracudas, Kapenta, Lechwe, Musikili, Simba Seals, The Lusaka Dolphins and Trident Tigers.
ZASU president David Thompson expressed happiness with the organisation of the swimming gala which he said the union was using to access swimmers for the 2013 Africa Youth Championship which Zambia will host from November 28 to December 1.
Thompson commended the various coaches for the work they had put in towards ensuring that the swimmers were up to the standards as evidenced by the levels of competition during the gala.