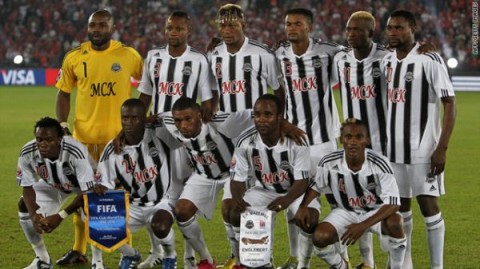 By FELIX MALUNGA
 –
THE Football Association of Zambia (FAZ) has written to the world governing body, FIFA seeking appropriate sanctions against DR Congo club, TP Mazembe for allegedly failing to comply with the directive to release three Chipolopolo star players.
And FAZ expects Mazembe not to use the three players in the club's crucial CAF Confederation Cup semi-final, second leg against Stade Malien of Mali this weekend since the trio were said to be unwell.
FAZ vice-president Boniface Mwamelo said in Lusaka yesterday that the association decided to report Mazembe to FIFA because the club did not follow the world body's directive.
"We have written to FIFA to apply appropriate sanctions since Mazembe didn't follow (FIFA) directives," Mwamelo said.
Mazembe had stated that defender Stoppila Sunzu with midfielders Rainford Kalaba and Nathan Sinkala were unwell and could therefore not be released for national duty.
But FAZ demanded that the trio be released for national duty and that if sick or injured, the Chipolopolo medical team needed to examine them.
As this ugly club-versus-country row deepened, FAZ reported Mazembe to FIFA and the world governing body reminded the Lubumbashi-based side of the need to comply with regulations governing the release of players for international friendly matches.
FIFA rules and regulations stipulate that players must be released for a sanctioned friendly 48 hours before the match.
Mazembe wrote back to FIFA saying defender Hichani Himoonde had been released while the other three were unwell.
The Congolese side said Kalaba and Sinkala were both victims of a malaria attack while Sunzu sustained a swollen knee in Mazembe's Confederation Cup semi-final first leg in Bamako.
However, at the weekend, Mazembe finally chartered a plane for Sunzu, Kalaba and Sinkala to travel to Lusaka where the Congolese claimed they expected a medical doctor designated by FAZ to check on the players.
Mazembe claimed on their website that they were surprised that Dr Mwila Lupasha, whom they believe FAZ had designated for the exercise, did not examine the players and instead indicated that the trio needed to go to China where the Chipolopolo team doctor was to conduct a diagnosis.
The club also alleged that Zambian immigration officers informed them that the three players could not leave the country except for a flight to China.
Sunzu, Sinkala and Kalaba now face arrest for failure to comply with immigration exit procedure after sneaking back into Congo at the weekend.
The Immigration Department has however not yet established the exit point for the trio and the mode of transport they used to get back to Lubumbashi.
Immigration public relations officer, Namati Nshinka said in interview yesterday that the arrest alert for the three players still stood.