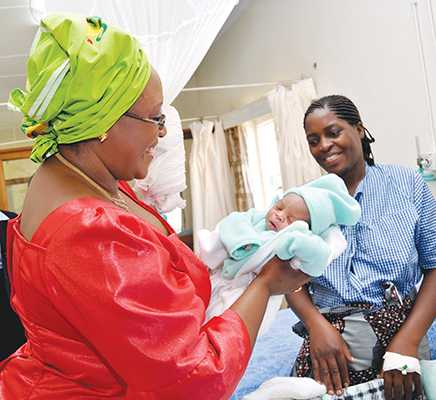 FIRST Lady Christine Kaseba is today expected in South Africa to attend the 2013 GBCHealth Africa Regional Conference, at which she is expected to be presented with the Frontline Heroes Award.
According to the programme made available to the Zambian High Commission in South Africa, the conference is expected to run from October 15 to 18, 2013 under the theme, 'Where business meets to help global ideas become local results', with an audience of 70 percent from the private sector, while the remaining 30 percent is drawn from government, United Nations (UN) and non-governmental organisations.
This is contained in a statement released yesterday by First Secretary for Press at the Zambian High Commission in South Africa Patson Chilemba.
The objectives of the conference involve promoting co-ordinated private sector involvement in global health issues, aligned to national agendas, highlight opportunities for business to help accelerate progress towards health-related MDG targets, showcase existing business contributions to global health targets and facilitate dialogue between public and private stakeholders.
Dr Kaseba will be joined at the conference by other high-ranking officials including South Africa's Minister of Health Aaron Motsoaledi, Nigeria's Minister of Health Onyebuchi Chukwu, Namibia's Minister of Health Richard Kamwi, UNAIDS regional director for Eastern and Southern Africa Sheila Tlou.
During her time in South Africa, Dr Kaseba is expected to address students, staff and invited guests at the high profile Medical University of Southern Africa in Pretoria.
Dr Kaseba will also attend the launch of the Southern African Development Community (SADC) cervical cancer initiative.
On October 17, Dr Kaseba will attend a full gala dinner during which the most exceptional companies in 2013 will be honoured and she will be presented with the prestigious Frontline Leaders Awards.
According to GBCHealth, the Frontline Leaders Award recognises on-the-ground health workers who are making a difference in people's lives.
On October 18, Dr Kaseba will deliver a keynote address and join the panelists to discuss Gender and SADC in her capacity as World Health Organisation Goodwill Ambassador against gender-based violence.