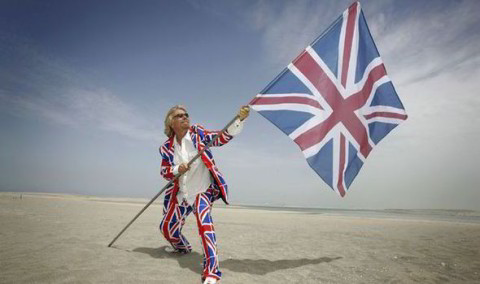 PIONEERING British businessman Richard Branson has decided to pack his bags and leave the UK for good.
Although Sir Richard Branson has spent years fighting off competition from the likes of Alan Sugar to be the poster boy for British business, in a shock move, he has chosen to sell up and move permanently to Necker Island.
The isle, located in the Caribbean has just been renovated, Necker was given a luxury make-over after being left ravaged in August of 2011, when a bolt of lightning caused a huge blaze.
Branson bought the paradise retreat during in the 1970s.
Titanic actress Kate Winslet, who was holidaying on Necker at the time, saved Branson's mother from the fire.
In total, the blaze lasted for three days and left much of the island in complete devastation
Forever a firm supporter in giving back to the British economy, Sir Branson is not heading overseas to deprive the UK of the tax from his massive earnings.
In April of this year Branson revealed "I don't think people should be leaving the UK because of our tax system."
Although the move will ensure that Branson receives "non-resident" status, Branson's companies contribute a large amount in corporation tax and he will still pay tax on his UK income.
Branson's companies also provide much needed jobs for 35,000 people in the UK alone.
A spokesperson for Branson spoke about the relocation, claiming; "This move is a lifestyle choice. The sun shines, he feels healthy and he travels around the world doing what he wants."
Official land registry documents have revealed that Branson's luxury Uk home and surrounding estate in Oxfordshire was bought by his two children, Sam and Hollie.
Their generous dad sold them the property for just £1.35million, a bargain price, considerably less than the estate is worth.