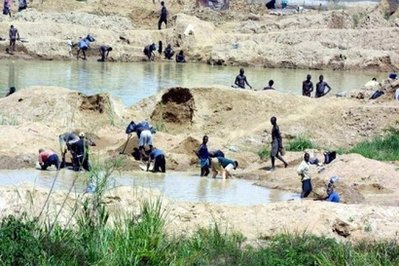 According to the latest national census, conducted in 2010, 58 percent of Zambia's estimated one million children between 6 and 15 are engaged in manual labor.
Eleven-year-old George Muleya used to wake up early every day to go to school.
He still does wake up early, albeit for a totally different reason.
Muleya now rises at the crack of dawn to accompany his mother to work at a stone-crushing plant.
"It takes me a week to crush a 30kg heap of stones, which could fetch me about 106 kwachas (around $20)," the young boy told Anadolu Agency.
To be able to secure this amount, Muleya must report to work as early as 6am and crush stones for at least 12 straight hours.
Cleo Jere, a fellow stone-crusher, says things don't always go as planned.
"Sometimes your crushed stones are stolen during the night and we have to start afresh in the morning," she told AA.
Jere has been in the stone-crushing business with her mother since her father was killed in a road accident three years ago.
"Since relatives aren't willing to help us, I had to abandon school to join my mother," she said.
"I don't want to crush stones, but I have no [other] option but to get into the business of my mother," she added.
Muleya and Cleo are only two examples of a widespread phenomenon.
According to the latest national census, conducted in 2010, 58 percent of Zambia's estimated one million children between 6 and 15 are engaged in manual labor.
Many of them are forced by their parents to engage in hazardous work in order to supplement the family income.
Hazardous
Child rights activist Godfrey Simukonde says forcing children to perform work that endangers them or threatens to rob them of promising futures should be criminalized.
"These children work tirelessly with the effort of quenching the scourge of starvation," Simukonde told AA.
"For them, it's survival of the fittest. They have to ignore the pride of their childhood and employ whatever means needed to make ends meet," the activist added.
Besides crushing stones, Simukonde says, children are also preferred for low-paying menial jobs on farms or in dumping pits, washing clothes, or other labor-intensive employment.
"When children are engaged in child labor, they also lose out on education," the activist noted.
"Working children are also exposed to physical hazards, such as possible injuries from heavy tools, inhaling dust that leads to silicosis and other illnesses in the long run and causes damage to eyes and skin caused by flying chips of stones," he added.
Simukonde also notes that children employed as domestic servants were the most likely to face physical and sexual abuse.
"Most [child laborers] are orphans and have no means to support themselves," he added. "For this reason, these children offer to do jobs which could only be done by adults."
"In the end," he said, "they become victims of abuse by their employers."
Lure of crime
Experts warn that more and more Zambian children are being drawn into the world of crime.
Simukonde, for example, says he has registered several cases of children employed as drug couriers.
In the clandestine world of crime, children can be exposed to numerous dangers, including sexual abuse.
They also run the risk of contracting sexually transmitted diseases such as HIV.
Living in such conditions, children are often subjected to psychological trauma, prompting some of them, if they don't receive help, to turn to prostitution or other crimes.
According to the International Labor Organization (ILO), child labor in Zambia is often a "coping strategy" for aggrieved children after the household's main breadwinner becomes unable to provide for the family.
To this effect, the ILO country director for Zambia has appealed to the government to take steps to protect children from harmful work.
Martins Clemenson told AA that children must be protected from all forms of exploitative child labor.
"Governments need to do more than just signing international conventions to protect children," he said. "These conventions need to be translated into policy aimed at protecting children."