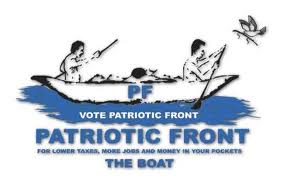 FURTHER revelations about a parallel structure in the Patriotic Front (PF) have surfaced after an interim president for the 'Fourth Republic' believed to be a new party within the ruling party structures resigned from the grouping.
Lameck Kamalo informed the Times of Zambia in Lusaka yesterday that the Fourth Republic was a new party and was using the foundation on which the PF had been established to gain popularity.
Recently, Sikwindi Situla, who was then PF assistant secretary general in charge of politics under party secretary general Wynter Kabimba's office, said the Fourth Republic did not exist.
On Thursday this week, the PF Lusaka District leadership accused Mr Kabimba of having formed a political party called the Fourth Republic Party (FRP) and that he was using the ruling party's structures to build it.
PF Lusaka district vice-chairperson Julius Komaki said Mr Kabimba was allegedly conducting covert operations to convert some ruling party members to the yet-to-be-registered party.
However, in his resignation letter addressed to Mr Situla and copied to Mr Kabimba, Mr Kamalo stated that he did not want to be part of the alleged Fourth Republic claiming that the movement promoted the establishment of federal States in Zambia.