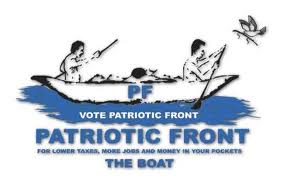 Ousted Patriotic Front Lusaka district Chairman Goodson Banda has called on the Robert Chikwelete led executive to recognize his legitimacy as District chairperson following the statement by vice President Guy Scott to Parliament last week that Mr Chikwelete is a self imposed district chairman.
Mr. Banda says now that the vice president has clarified that the Robert Chikwelete led executive is not recognized by the party leadership, he should stop masquerading as PF Lusaka District chairperson.
He says the vice President is in constant consultation with President Michael Sata and that when he spoke in Parliament about the legitimacy of Mr. Chikwelete to hold the elective position of District chairperson, his views in fact represented those of the party and the republican president.
Mr. Banda states that there is no way the vice president could have betrayed President Sata on the status of Mr. Chikwelete in the party as the two have been friends for a very long time and that the vice president only serves the interest s of the head of state.
Mr. Banda has since extended an invitation to Mr. Chikwelete and his group to work together as one party stating that there is no need for either group to start fighting over a straight forward matter.
Meanwhile, Mr. Banda has described as unfair what he has described as the continued humiliation of party Secretary General Wynter Kabimba at the hands of cadres and some senior party officials.
Mr. Banda says Mr. Kabimba deserves a fair hearing on all allegations that have been leveled against him.