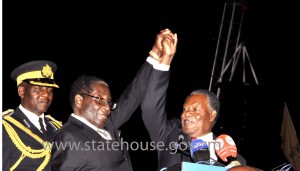 PRESIDENT Michael Sata congratulated  his  Zimbabwean counterpart Robert  Mugabe for his hard-hitting speech at the 68th United Nations General Assembly which caused a stir.
Mugabe  berated  the West for  what he called the continued persecution of his country which prompted Unites States (US) and British delegations to the UN General Assembly to walk out of the hall.
Mr Sata, who was among only a few Heads of State who continued to attend the annual debate after delivering their keynote addresses, was seen nodding in approval throughout Mr Mugabe's speech.
Soon after the Zimbabwean President ended his speech to an ovation, Mr Sata walked to him and offered his congratulations with the two leaders exchanging hugs and a few words before resuming their seats.
In his usual nonchalant style, Mr Mugabe delivered his  address with  a thinly veiled attack on the US, Britain and their allies for propagating regime change in his country and charging that his election victory dealt them a hammer blow.
He strongly condemned  the economic sanctions imposed by the United States and the European Union.
"Shame, shame, shame, to the United States of America, shame, shame, shame  to  Britain  and its allies. Zimbabwe is for Zimbabweans, so are its resources. Please remove your illegal and filthy sanctions from  my  peaceful  country," he chastised with a clenched fist.
He ended his speech by saying Zimbabwe would never be colonised again and reiterated that his country's destiny was firmly in the hands of its citizens.
The UN general debate, which concludes on October 1, is an opportunity for world leaders to present their views and comments on issues of individual national and international relevance.
President Sata delivered his speech on Tuesday urging the UN to grant Africa a permanent seat on the Security Council, which Mr Mugabe, South African President Jacob Zuma and several other African countries, also echoed.