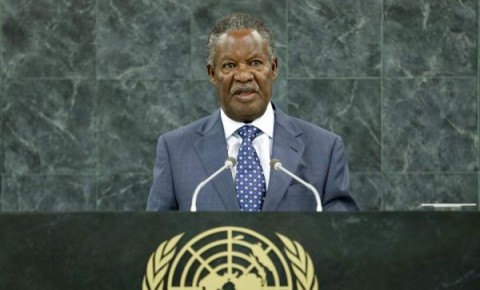 PRESIDENT Sata has expressed joy at the fact that Zambia has managed to score major successes in reducing child mortality and maternal deaths after adhering to a strong health ethic.
Mr Sata, who was addressing the United Nations 68th General Assembly here on Tuesday, also reiterated calls for reforms to the United Nations Security Council to make it more inclusive and give Africa a greater voice.
He said although Zambia can look at the progress made on Millennium Development Goals four and five with satisfaction, the country continues to struggle to reduce poverty.
"Amidst much anxiety, the 2013 progress report for my country was released in May. On a positive note, the report indicated tremendous progress made by Zambia on MDGs number four and five, which talk about reducing under-five mortality rates by two-thirds and the maternal mortality ratio by three quarters by 2015," Mr Sata said during the general debate.
He was addressing over 100 heads of state gathered in New York to debate the post 2015 development agenda, the crisis in Syria and other pressing global issues.
Host President Barack Obama, Nigeria's Goodluck Jonathan, Mozambique's Armando Guebuza, Malawi's Joyce Banda, South Africa's Jacob Zuma and Brazil's Dilmah Rousseff among many others, also addressed the general assembly.
Mr Sata said Zambia and Africa made a commitment through the MDGs to improve living standards for the vulnerable and efforts are being made to achieve that.
"In less than two years, we will have reached the deadline for the MDGs and governments will have an opportunity to take stock of the achievements made in attaining the development targets set at the turn of the century," he said.
Mr Sata said the pursuit of MDGs would continue with renewed vigour now and after 2015.
"We are all champions of MDGs. We have run the race and we continue to run the race, though at different paces and on different terrains. What remains critical, therefore, is what we do between now and 2015 and how we move beyond 2015,'' he said.
On reforms to the Security Council, he said Zambia and Africa desire to realise a more democratic and representative UN Security Council
"As a continent, our voice could not have been clearer. We continue to call for greater progress in these negotiations whose conclusion is long overdue. I wish reiterate our position as defined in the Ezulwini consensus," he said.
And on HIV and AIDS, Mr Sata says Zambia's report indicates considerable progress in treatment and care, adding that international support is critical for a more efficient and effective response to the pandemic.
"Although progress has been achieved, challenges remain and are still immense. We have to ensure that people living with HIV and AIDS are receiving the best of care and access to social protection services.
All efforts must be made to reach zero infection and zero deaths by building on what has been achieved so far. International support is equally critical for a sustained and enhanced response,'' he said.
On poverty reduction, he said this is important for the achievement of sustainable and inclusive development for Zambia's future.
"My country attaches importance to improving the welfare of our people, especially women, children and youths through wealth and employment creation, provision of quality education, health care and industrialisation," he said.
The President said social protection and upholding the rights of children are critical for a better future.
He also made reference to Zambia's efforts in peace building and the liberation of southern Africa, saying Zambia will remain committed to "the ideals for which she has stood firm and stands to contribute to global efforts aimed at uplifting humanity."
He said Zambia can also be proud of enjoying political stability and democracy as the country heads to its golden jubilee independence celebrations next year.
"This has formed the basis for social and economic transformation for the betterment of the lives of Zambians," he said.
On the economy, Mr Sata told the general assembly that Zambia is currently enjoying macro-economic stability and its economy has grown in the recent past.
"My government, however, still has the huge task of ensuring that the basic needs of Zambians are met. To accelerate Zambia's efforts to reduce poverty, my government has taken an unprecedented painful step to remove subsidies on maize and fuel," he said.
Zambia is also pushing for massive investment as part of its strategy to create jobs for youths.
The President also called for global partnerships in pushing the post 2015 development agenda.