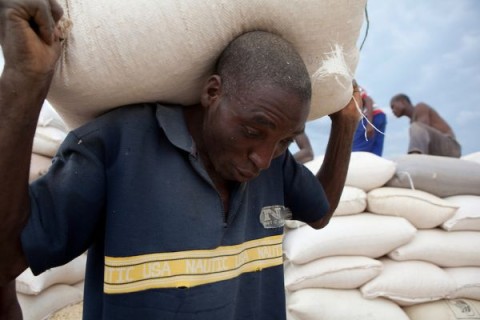 My expertise is in growing businesses, not growing crops.
But you don't need to be a farmer, a soil scientist or policy expert to know that agriculture is simply key to Africa's future.
How, after all, could this not be the case?
Agriculture remains, by far, our continent's biggest industry and biggest employer.
While there has been remarkable success of many other sectors, agriculture still accounts for nearly 40 per cent of the Gross Domestic Product (GDP) of African countries and the livelihoods of seven out of 10 people.
Evidence from Asia and Latin America also shows that increasing agricultural productivity is a powerful motor for wider economic development.
This is why the gathering in Mozambique over the next few days of many of our continent's leaders in agriculture is so important.
The African Green Revolution Forum in Maputo has the task of finding ways to accelerate the transformation of agriculture across the continent.
The goal is not just to produce enough food for the 240 million of our fellow citizens who still don't have enough to eat but, longer term, to export surplus production to the rest of the world to increase revenues and tackle global hunger.
By doing so, we will drive forward our continent's already impressive economic growth and, importantly, ensure it is widely and fairly shared.
Though an ambitious goal, given all the challenges to be overcome, it is firmly within our grasp.
After all, Africa has as much as 60 per cent of global uncultivated arable land and, in many parts of our continent, plentiful water for sustainable irrigation. We have, too, a youthful, energetic and resourceful population which, with the right support, could transform agricultural production.
The good news, too, is that this support is finally beginning to be provided.
Governments across Africa are giving a new priority to agriculture and rural development.
The African Union's Comprehensive Africa Agriculture Development Programme – signed in Maputo a decade ago – has provided important impetus and cohesion to these efforts.
We have also seen new partnerships and ground-breaking initiatives being launched through AGRA – the Alliance for the Green Revolution in Africa – to put our continent's army of smallholder farmers at the centre of the transformation we need.
Focusing on smallholders does not mean that big commercial farms don't have a big role to play.
By putting themselves at the centre of the local farming community, as many already do, they could re-energise agriculture.
It is instead a simple and pragmatic recognition that it is only by unlocking the potential of our continent's 33 million smallholdings that improvements could be delivered at the speed and scale needed.
It is smallholders who, after all, produce the overwhelming majority of Africa's food.
And it is by helping them, their families and communities to thrive that we can have the biggest impact on spreading prosperity.
Across the continent, AGRA's work is helping make a difference from the field to the market, increasing harvests, improving the supply chain, providing new investment, developing new businesses and boosting incomes.
More than 400 new crop varieties, for example, have been specifically developed in Africa for our continent's unique conditions.
African farmers and agricultural businesses have shown time and time again that if we provided them with the opportunity they would seize it with both hands.
We now need to provide these opportunities to more farmers and communities.
So how do we achieve this ambition?
My experience over decades in business in Africa has taught me that there is no more powerful motor for progress than by combining the complementary powers of the public and private sector.
They can forge a true partnership with governments providing the right policy, legal and financial framework in which the dynamism of the private sector could thrive.
Building and strengthening these public-private partnerships is the key focus of the Forum this week.
In particular, discussions would centre on how to attract new investment and credit into farming.
Such a change is urgently needed because the existing finance mechanisms are still failing badly to meet the need.
Investment in such an important industry remains well-below what is required to bring a step-change in production.
And while agriculture accounts for nearly 40 per cent of the GDP of some African countries only 0.25 per cent of bank lending goes to smallholder farmers.
The result is that farmers and small agri-businesses struggle to get the finance to invest in new seeds, fertilisers or equipment.
But by bringing smallholders together, we can reduce risks and increase economies of scale to make these customers more appealing to those who provide credit.
Technological innovation could also be used to reduce costs and meet these needs for investment and credit.
Africa is already setting a global lead in mobile banking – a sector I know well – and there is a great deal more we can do in this area.
Through building new public-private partnerships, we can ensure African agriculture reaches its rich potential to increase food production and drive prosperity.
Indeed this is already happening in areas as diverse as innovative finance, improving warehousing and funding irrigation projects. We need to find ways to scale up these initiatives.
The seeds of success are already planted.
The challenge in Maputo this week and beyond is to provide the conditions where they can grow.
Strive Masiyiwa is the chairperson of Econet Wireless and vice-chair of the Board of the Alliance for a Green Revolution in Africa, a co-sponsor of the African Green Revolution Forum taking place this week in Maputo, Mozambique.