CONFIRMATION & MORE DETAILS AS WE RECEIVE THEM…
Zambia Daily Mail posted on their facebook page that " CATHOLIC Cardinal Medardo Joseph Mazombwe has died:
On August 15th Vatican Radio website  reported that Medardo Joseph Cardinal Mazombwe of Zambia was ailing and was evacuated to South Africa on Wednesday, 8th August, 2012, for expert treatment and was admitted to Morningside Clinic in South Africa.
August 15th 2012 News Report
Text from page http://en.radiovaticana.va/news/2012/08/15/cardinal_mazombwe_is_ailing/en3-613155
of the Vatican Radio website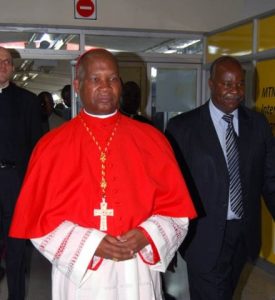 Medardo Joseph Cardinal Mazombwe of Zambia is seriously ill but in a stable condition. He was evacuated to South Africa last Wednesday, 8th August, 2012, for expert treatment and was admitted to Morningside Clinic. The Zambia Episcopal Conference, ZEC, is in direct contact with the hospital authorities in South Africa and as such are able to monitor his condition. Responding to an inquiry I (Kampamba) sent to him, from Vatican Radio, about the condition of the Cardinal, ZEC Secretary General, Rev. Fr. Cleophas Lungu said that although his situation is still critical Cardinal Mazombwe has made some progress since his admission to hospital in South Africa. The following is the note from Fr. Lungu…
Indeed, I can confirm that the condition of Cardinal Mazombwe who is admitted at Morningside Clinic in Johannesburg – South Africa, is stable but still quite serious. As such, your fervent and valuable prayers are very much welcome. He is still experiencing some back-pain and general body exhaustion. The staff at the said clinic have been trying to manage the several symptoms they have noticed such as the high level of calcium in his blood and the difficulties he has had in breathing. Thank God, in the past few days, he has been able to do a few movements as part of physiotherapy. He has also been able to receive Holy Communion. Yesterday, he was delighted to have a very brief telephone conversation with His Eminence, Cardinal Bertone, the Secretary of State. Kindly note that a team of highly competent Medical Doctors have continued to carry out a number of tests in order to establish the real problem. We are hoping to receive the final diagnosis by tomorrow evening or sometime on Thursday. Till then, I wish you and your colleagues, God's blessings in abundance.
Fraternally Yours in Christ,
Fr. Cleophas
The archbishop of Lusaka, Telesphore Mpundu, last week told a press conference in Lusaka that Cardinal Mazombwe had been admitted to the Italian Orthopaedic hospital (in Zambia) for close to two weeks, before being flown out to South Africa. Archbishop Mpundu said the cardinal was admitted to the Italian hospital on July 26 for spinal complications. He said six specialist doctors attended to Cardinal Mazombwe and recommended his evacuation to South Africa.
Cardinal Medardo Mazombwe is Zambia's first and only Cardinal. He was born on 24 September 1931. He was the bishop of Chipata from 1970 to 1996, when he became archbishop of the archdiocese of Lusaka in in November. He retired as ordinary of the See of Lusaka in October 2006 when he reached the nominal 75- year age limit. Pope Benedict XVI elevated Mazombwe to the status of Cardinal in a consistory of November 20, 2010.
Those in the country wishing Cardinal Mazombwe God's blessing and a speedy recovery include the government of Zambia, whose president, Michael Sata visited the cardinal in the morning of the day he was evacuated. The Zambian Church remains united in praying for the 80 year old cardinal who is such a great inspiration because of his humility, dedication and service to the people of Zambia.
Text from page http://en.radiovaticana.va/news/2012/08/15/cardinal_mazombwe_is_ailing/en3-613155
of the Vatican Radio website