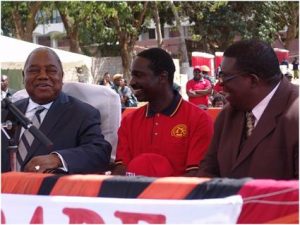 The Zambia Congress of Trade Unions (ZCTU) says calls to have a team of medical Doctors constituted to ascertain the health of President Michael Sata are misplaced.
ZCTU President Leonard Hikaumba says there is presently no need for such calls as that can only happened when the president is incapacitated.
Mr Hikaumba those calling on Cabinet to constitute a team of medical Doctors are only wishing the president ill-health.
He implored Zambians to learn to follow the right procedure whenever they want to bring out serious national matters.
And the Patriotic Front in Shibuyunji district has described as petty jealous and cheap propaganda to earn political mileage calls by the UPND for a team of Doctors to be constituted to ascertain the health of President Sata.
PF Shibuyunji District Secretary Joseph Kasonde says the UPND is still in disbelief that President Sata is fit.
Mr Kasonde says President Sata has little time to continue appearing to the public everyday as the UPND wishes, because he is preoccupied with delivering development to the Zambian people.
He wonders what President Sata's daily public appearance has to do with the various developmental programmes he has initiated.