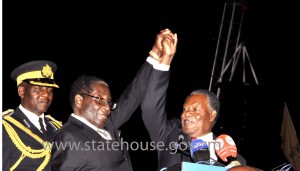 THE Livingstone hype reached a crescendo yesterday with the proverbial icing on the cake – the arrival and gracing of the city by President Sata which virtually brought traffic to a stop.
The President wasted no time in noting the development projects that have been carried out "successfully" in Livingstone ahead of the United Nations World Tourism Organisation (UNWTO) general assembly.
He said the budding growth in the once economically depressed city is just the beginning of better things to come as he targets job creation and poverty reduction countrywide.
Addressing a sea of Livingstone residents on arrival at Harry Mwaanga Nkumbula International Airport, Mr Sata also expressed gratitude to the people of the tourist capital for backing government in making the co-hosting of the 20th session of UNWTO general assembly with Zimbabwe a huge success.
The head of state travelled across the border into Zimbabwe's Victoria Falls Town where the official joint opening ceremony took place, before getting back into Livingstone which has come alive on the back of the event.
"Twalumba kapati (thank you very much). This is just the beginning… there is a lot more better things to come, but it's up to you the people of Livingstone (to make it happen)," Mr Sata said.

The President also thanked First Lady Christine Kaseba for supporting his efforts to ensure that the government takes development to all parts of the country.
Earlier, Minister of Tourism and Arts Sylvia Masebo commended President Sata for all the development projects his government has implemented in Livingstone ahead of the UNWTO general assembly.
"We are very happy to receive you and thank you for what you have done for the people of Livingstone and for your great development policies which have changed the face of Livingstone," Ms Masebo said.
And Southern Province Minister Daniel Munkombwe thanked all the people who worked hard to prepare and ensure that the country successfully co-hosts the UNWTO general assembly.
"This needed geniuses and hardworking people like Sylvia Masebo," Mr Munkombwe said.
He also accused some opposition members of being ignorant about the economic benefits from the hosting of the UNWTO general assembly.
"We appreciate the efforts of your government in ensuring that the country succeeds in hosting the general assembly successfully. We know that through you, we will get economic benefits from hosting the UNWTO general assembly," Mr Munkombwe said.
Mr Sata was accompanied by the First Lady and some senior government officials.
He was received by Vice-President Guy Scott and his wife Charlotte, Minister of Home Affairs Edgar Lungu, Minister of Defence Geoffrey Mwamba, Minister of Foreign Affairs Wylbur Simuusa, Ms Masebo, Mr Munkombwe, permanent secretaries and other Government officials.