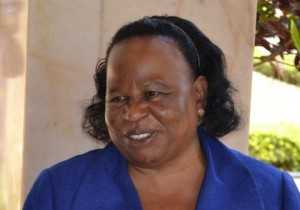 The Law Association of Zambia (LAZ) says it will take legal action if its intended plans to engage relevant authorities on the issue of filling the vacant position of the country's Chief Justice fails.
This follows a LAZ Extraordinary General Meeting held today August 24 in Lusaka which has resolved to maintain that Justice Lombe Chibesakunda is not qualified to hold the office of the country's Chief Justice.
Early in May this year, at an Annual General Meeting (AGM) the Association's council also deduced that Justice Chibesakunda did not qualify to continue in her position of Acting Chief Justice.
In a statement released to Qfm today, Association's Honorary Secretary Linda Kasonde has disclosed that the resolution to engage relevant authorities before litigating on the matter was already a mandate by the May 24 AGM to the Council of LAZ and that the said engagement with the authorities is to be done within one month.
Ms. Kasonde says this in view of ensuring that the vacancy in the substantive office of the Chief Justice of the country is filled.
Ms. Kasonde adds that the said litigation will be undertaken along with other forms of dignified and affirmative action by the members of the Association until the substantive position of the office of the Chief Justice is filed.